»
Featured Products
»
CNC Routers, Milling, Plasma
»
Industrial Level Machines
»
KL-6090 36″ x 23.6 " with Spindle and Relay Control with UC100 USB Connection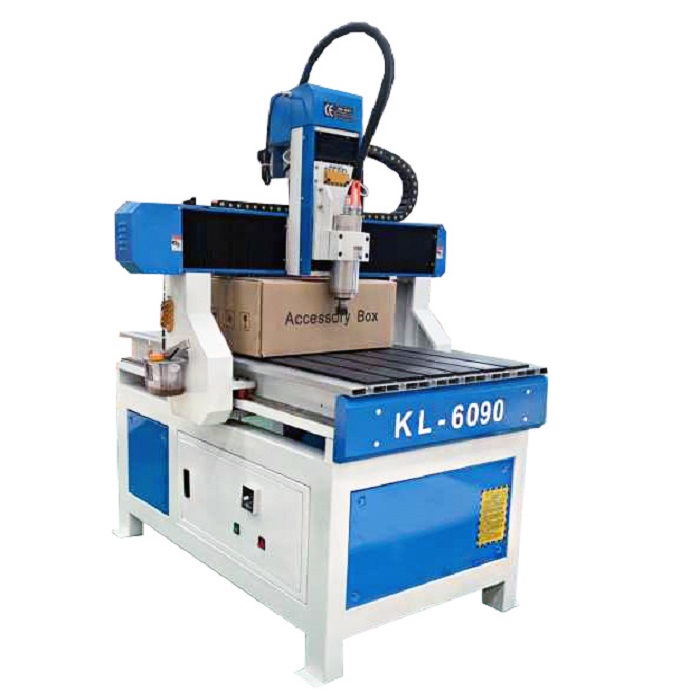 KL-6090 36″ x 23.6 " with Spindle and Relay Control with UC100 USB Connection
Product in stock
KL-6090 36″ x 23.6 " with Spindle and Relay Control with UC100 USB Connection
Product Description
KL-6090 36″ x 23.6 " with  Spindle and Relay Control with UC100 USB Connection
You can come to our show room to check the machine.
This machine runs at 220VAC. If you have 110Vac, you need to buy  a step-up transformer, 110VAc to 220VAC ,  3000 Watt Step Up/Down Electrical Power Voltage Converter Transformer
Brand New CNC Router Engraving Machine with USB Connection
 2.2KW (3HP) Liquid Cooled Spindle + 2.2KW Variable Frequency Driver
We Changed this Machine to Mach3 Controlled System.
Working Size X,Y,Z : 600(x) 900 (y)  200mm(Z) ( about 25.6" x 36 " x 7.87")
Gantry Height: 200mm (7,87 inch)
Working Speed : 200 -300 IPM, Rapid Speed: 500 IPM
Resolution: about 0.05 mm, X, Y, Z Repeatability: 0.02 mm
Mach3 Controller with Mach3 Demo Software (Mach3 License file is not included)
Spindle: 2.2KW, Water-Cooled, ER20 collet chuck
Water Pump With Tank
Spindle Speed: 0-24000rpm with VFD, AC220V/50Hz/60HZ
X, Y, Z axis driver: Stepper Motor Driver, NEMA34 Stepper Motor, 640 oz-in
X, Y Z Limit Switch, E-Stop
6 axis USB Breakout Board, you can use at 32, 64 bit computer, Window 10, 8, 7 , XP
20 Taiwan Hiwin Rail and Guide
Wood Packing Size: 1380 x 1090 x 1400 mm (about 55 x 43 x 55 inch)
One year USA parts warranty
Basic setup procedure:
Mach3 set up for kit and machine, Download here
Mach3 Setup (Mach3Mill.xml file) (14466)
Mach3setup (17668)
Mach3Tutorial (210780)
We will send you a paypal request for shipping fee difference
Start Up Procedure:
KL-Series CNC Manual (3596)

Updating...