»
Featured Products
»
Industrial Robot
»
Touchscreen Human Machine Interface(HMI) with Programmable Logic Controller(PLC) NEMA34 CNC Kits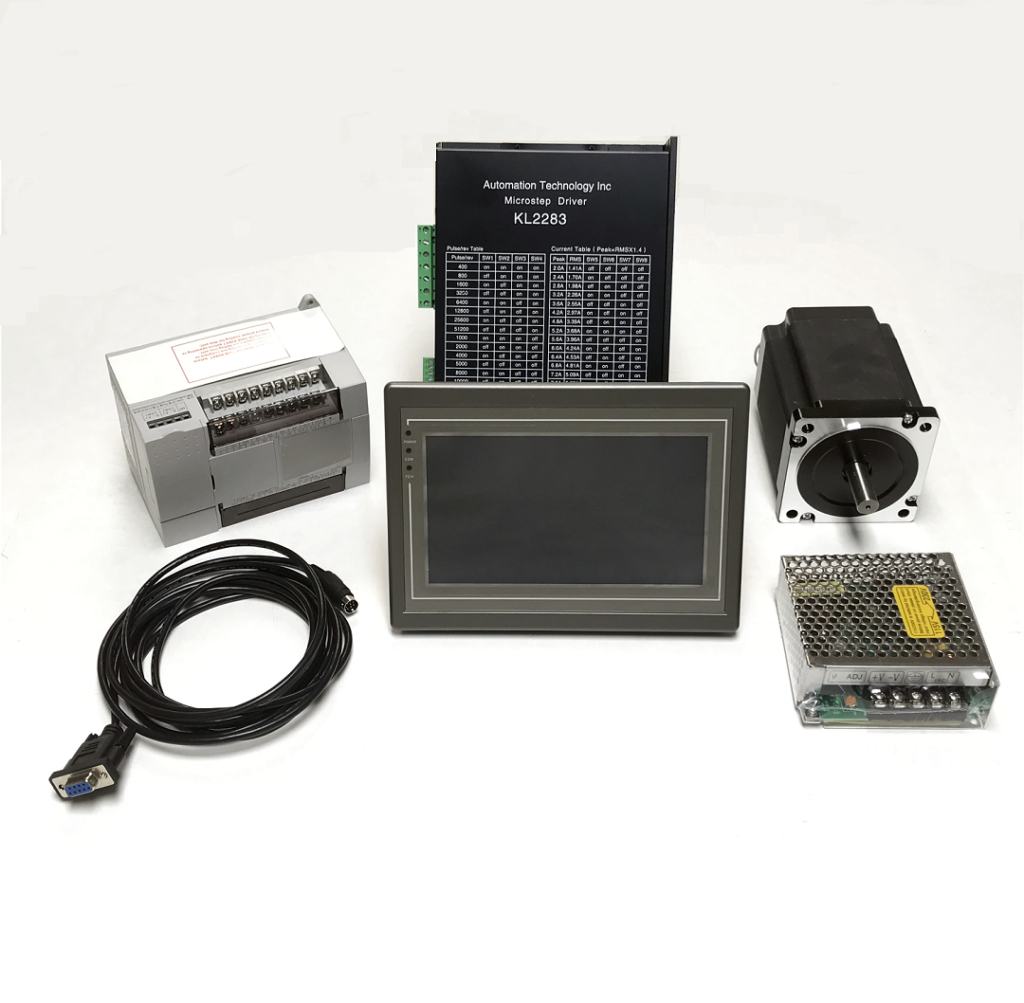 Touchscreen Human Machine Interface(HMI) with Programmable Logic Controller(PLC) NEMA34 CNC Kits
Product not in stock
Touchscreen Human Machine Interface(HMI) with Programmable Logic Controller(PLC) NEMA34 CNC Kits
Product Description
This kit include:
7 inch HMI
24 I/O PLC
Connection Cable (HMI and PLC)
1pcs NEMA34 Stepper Motor 1200 oz In. Hybrid Stepper Motor KL34H2120-42-8A ) with key
1pcs KL-2283 8.3 Amp Digital Bipolar Stepper Motor Driver
1pcs 5V/3A Switching Power Supply 
SPECIFICATIONS:
7 inch HMI
◇Hardware: CORTEX A8 600MHZ CPU, 128M FLASH, 128M DDIII RAM
◇Display size: 7 inch
◇Resolution: 800×480 TFT LCD 16,000Kcolors
◇Interface: RS232/RS485/RS422 (2 COM ports available),one Ethernet port
◇Storage: Support Date Storage, SD Card, U Disk
◇ Programmed by PIStudio
◇ WINCE7.0 LINUX supported
OS
WECON OS based on Linux QT
Touch Screen
High precision four-wire resistive
CPU
Cortex A8 600MHz
Display
Screen Size
7 Inch
Resolution
800*480
Brightness
250cd/m2
Contrast Ration
500:1
Backlight Type
LED
Backlight Life Time
50,000 hours
Colors
16,000K Colors
Storage
FLASH
128MB
RAM
DDRIII 128MB
SD Card
Compatible
I/O ports
USB Host
USB2.0x1
USB Client
USB2.0x1
Serial Port
COM1
RS23/RS422/RS485
COM2
RS232/RS485
COM3
--
Ethernet
YES
CAN
N/A
Permanent Calendar
Built-in
Power Supply
Power Input
24V DC(12~28V DC)
Power consumption
<10w
Dimension
Enclosure
ABS
Dimension (mm)
201.0W*146.6H*36.5D
Mounting Size (mm)
192.0W*138.0H
Weight (KG)
0.6
Operation Environment
Protection
IP65(Front panel)
Storage Environment
Storage : -30℃ ~ 70℃; Working : -10℃ ~ 60℃
Working Environment
10~90% RH (Non-condensing)
Seismic Resistance
10~25 Hz (X、Y、Z direction 2G/30 minutes)
CE Certification
CE marked
FCC Certification
FCC Class A
Software
PI Studio
Remote Control
N/A
24 I/O PLC 
Power supply: AC100-240V power,     DC24V power.        20W rated power
IO: 12xDI/12xDO(Transistor-type), 2-channel 200K high-speed pulse output
Port:RS422, RS485,1 BD board supported.
Protocol:  2N NO PROTOCOL, LX3VP PROTOCOL
Support 64K-step ladder.
Support N: N PLC network up to 8 PLCs;
T50~T191 can be changed to 1ms timers by M8028
For the following items, you are able to check the specifications through the link:
NEMA34 Stepper Motor–1200oz/in 6amp Single Shaft (KL34H2120-42-8A ) with key
KL-2283   8.3Amp Digital Bipolar Stepper Motor Driver, AC 80-220VAC - 32bit DSP Based
5V / 3A Switching Power Supply
Wiring & downloads
[Download not found]
The PLC have 24V output for the HMI, this kit do not include the 24V/4.5A power supply.

Updating...