»
Featured Products
»
3D Printer and Filament
»
3D Printer Machine Parts
»
BIQU MKS-BASE V1.4 Plate Controller Board for 3D Printer Ramps 1.4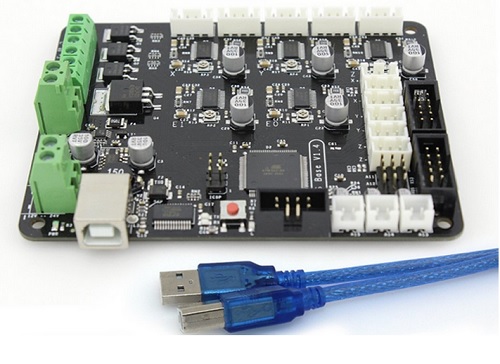 Sale!
BIQU MKS-BASE V1.4 Plate Controller Board for 3D Printer Ramps 1.4
Product in stock
Price
$99.00
$94.00
You save: $5.00! (5.05%)
BIQU MKS-BASE V1.4 Plate Controller Board for 3D Printer Ramps 1.4
Product Description
R
Product Features
32-bit Cortex-M3 100M of the LPC 1768 master chip for improved performance
Using 8825 as a motor drive, supports 32 segments, far exceeding the 4988 performance, the use of SOP package, the heat better
The circuit board with high-quality 4-layer, and made a special thermal optimization
Using a dedicated power supply chip, support 12V-24V power input
Support network function, through the network cable can directly access the network using the browser to remote control
Product Description
Specifications:
-Support highly modular open source firmware Smoothieware, convenient secondary development, eliminating worries can not grasp the core code
-The stepper motor current set directly, without fear of damage to the drive or potentiometer to adjust the current time
-Could be connected to 12864LCD
-Could be connected to touch-screen MKS TFT28
-Net Weight:130g
-Dimensions:146.5*95mm
Note:
-Pls confirm whether the positive and negative reversed before powering up again, if the user is due to reverse power and burn, and we do not guarantee such problems
-Do not plug in case of power motor drive easily lead to burn; do not adjust the current in the motor is running. The correct approach is to first disconnect the power, unplug the motor, and then re-power, adjust potentiometer, measure the voltage on the potentiometer until the measured voltage is the same as expected
-MKS Sbase board must be inserted TF card can be used, it must be prepared to TF card, and be careful not to use poor quality TF card
-Ancillary products is not including, need to purchase:
-4 stepper motor: 42 motor with line
-Limit switch 3: MKS limit switches
Package Included:
1* MKS SBASE V1.3 32-Bit Controller Panel Board
1*USB Cable

Updating...