»
Featured Products
»
CNC Parts
»
CNC Router 400W Air Cooling Spindle Motor ER11, Mach3 PWM Controller, 52mm Mount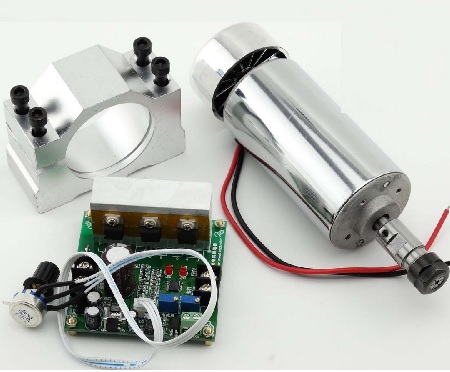 CNC Router 400W Air Cooling Spindle Motor ER11, Mach3 PWM Controller, 52mm Mount
Product in stock
CNC Router 400W Air Cooling Spindle Motor ER11, Mach3 PWM Controller, 52mm Mount
Product Description
This is a test cut using KL-4530 Router with 400W air spindle, Mach3 PWM control
Spindle Motor:
Work voltage: 12-48VDC
Rotation speed: 3000-12000r/min
Power: 400W
Torque:500mN.m
Insulation resistance:>2Megohm
Dielectric strength:400V
Motor Length : 186mm
Diameter:52mm
Axis collet Length: 48mm
Diameter of Axis collect holder:16mm
Repeat accuracy: 0.01-0.03mm
ER11 collect: 3.175mm
Wide voltage PWM DC brush motor speed controller:
Applies to DC12-60V low voltage permanent magnet brushed DC motor
Operating Voltage: Wide Voltage (DC) DC12V-DC60V (Max 65V)
Control mode
A: Default potentiometer control (5K-100K),defaults 10K;
B: MACH3 -PWM speed control signal input, external PWM input requirements: level 3.5-12V VPP, frequency 1K-           10KHZ, suitable for MACH3 spindle speed control.
4. Rated current: 10A, overload and short circuit protection current 12A. (Over-current cut output, overcurrent indicator flashes, the potential light is off, overcurrent lift).
5.soft-start function. Prevent excessive current caused by the motor and power damage (default 0 seconds soft start), 0-5 seconds adjustable.6.Control power: 12V120W, 24V240W, 36V360W, 48V480W, 60V600W7.Dimensions: Length 75mm * Width 75mm * high 42mm 8.Pulse width modulation range: 0% -100%
 Note:
When using a PWM signal control mode, need to unplug Potentiometer, or it will be unable to use PWM mode).
Package Content:
1 * 400W spindle motor with with ER11 3.175 collet
1 * Mach3 PWM speed controller
1 * Mount bracket with screws
One year manufacture warranty
if we do not have it in chicago office, we will ship from our China office,
It takes about 10 days

Updating...