»
Featured Products
»
CNC Routers, Milling, Plasma
»
2 Axis Compound Milling Machine Bench Fixture Worktable Cross Slide Table Drill Vise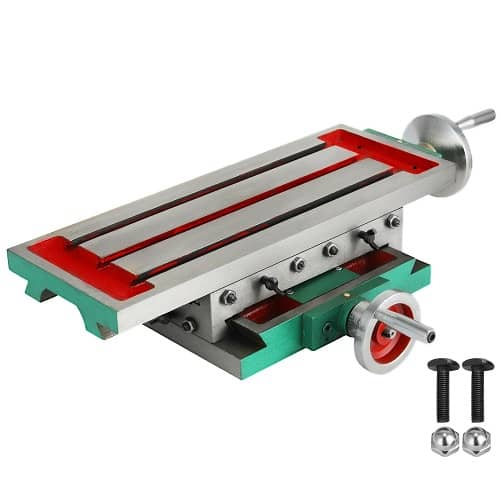 2 Axis Compound Milling Machine Bench Fixture Worktable Cross Slide Table Drill Vise
Product in stock
2 Axis Compound Milling Machine Bench Fixture Worktable Cross Slide Table Drill Vise
Product Description
2 Axis Compound Milling Machine Bench Fixture Worktable Cross Slide Table Drill Vise
The two-axis workbench surface has three T-slots and provides dual-axis (lateral and cross) positioning via two handwheels for precise adjustments. Perfect for drilling grinding and milling operations.
Features
【PREMIUM QUALITY STRUCTURE】- Built by heavy-duty cast iron material, which is anti-corrosion and rust resistance, angle milling table can withstand the tough environment and designed for long service time.
【HIGHLY POLISHING & STIFFNESS】- The compound slide table, with great hardness and stiffness, is high ground and not easy deformation. Three precise T-slots can meet different force requirements.
【2 AXIS 4 WAYS MOVE】- Handles with trapezoidal thread spindles is easy to adjust the directions. X-axis travel: 210 mm, Y-axis travel: 110 mm. With a precise scale on it, you can adjust the optimal working position as you need.
【TIGHTNESS ADJUSTMENT】- Equipped with several quality bolts and nuts, you can easily adjust the tightness of this cross slide table. Convenient for your use.
【WIDE APPLICATION AREA】- This milling working cross table machine is great for mounting on drilling machines for precise positioning. It can be used for most types of milling and drilling, ideal for all drill stands, drilling, and milling machines.
Specifications
Worktable length: 17.7in / 450 mm
Worktable width: 6.7in / 170 mm
Transverse travel(X-Route): 8.3in / 210 mm
Longitudinal travel(Y-Route):  4.3in /110 mm
Overall height: 3.9in / 100 mm
Dimension:  21.3 in* 12.2 in*4.5 in / 540* 310* 115 mm
Net Weight: Around 70 lbs
Package includes:
1 X Milling Support Table Worktable(450*170mm)
Supplied with screws
One Year Warranty

Updating...