Stepper Motor | Stepper Motor Driver | CNC Router | Laser Machine | 3D Printers For Sale
»
Featured Products
»
CNC Spindles & VFDs
»
4.5KW 6HP VFD Inverter 1phase 220V 21A CNC Engraving Router Spindle Motor 1000Hz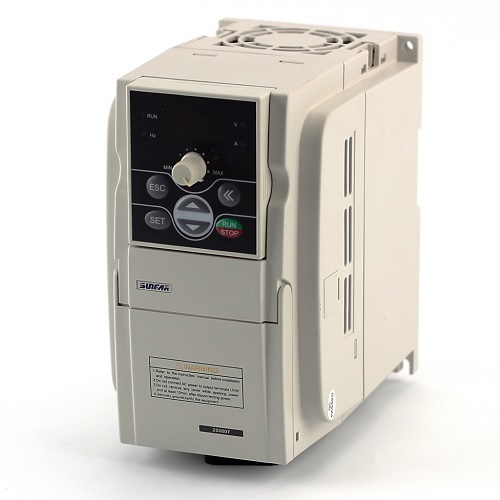 4.5KW 6HP VFD Inverter 1phase 220V 21A CNC Engraving Router Spindle Motor 1000Hz
Product in stock
4.5KW 6HP VFD Inverter 1phase 220V 21A CNC Engraving Router Spindle Motor 1000Hz
Product Description
4.5KW 6HP VFD Inverter 1phase 220V 21A CNC Engraving Router Spindle
Motor 1000Hz Variable Frequency Driver Inverter
Product information:
Model: E550-2S0045L
Input: 1-phase AC 220V ±20% 50/60Hz
Output: 0~1000HZ 21A
Power: 4.5 kw
Features:
User-defined V/F curve and torque boost function, support powerful cutting capability when processing
Output frequency up to 1000Hz, support the requirement of high-speed processing.
Highly adaptive to grid voltage, and can stand for ±20% fluctuation.
Particular self-adaptive control technology, allowing for automatic current and voltage limitation and under-voltage suppression during operation.
Configuration of RS485 communication interface, optional MODBUS protocol and self-defined protocol; with linkage synchronous control function, allowing for easily communicating inverters with PLC, industrial personal computers and other industrial personal equipment.
The panel supports hog plug, applicable for system integration for various applications.
Vivid real-time monitoring, allowing for monitoring input and output current, voltage and so on in real time.
8. 4-channel multi-functional input terminal, with 29 kinds of terminal function definitions, 16 kinds of programmable status outputs, hence enabling flexible control over parameters.
9. Having a built-in counter, able to conduct simple counting with match of functional terminals.
10. Internally integrated and optimized PID controller, facilitating users to conduct closed-loop control over temperature, etc. Able to simplify control system structure, so as to reduce cost.
one year parts warranty

Updating...