»
Featured Products
»
CNC Spindles & VFDs
»
CNC Spindles
»
2200W 3HP Water Cooled CNC Milling Spindle, KL-2200T, for Metal and Aluminum, with 85mm Mount Bracket Clamp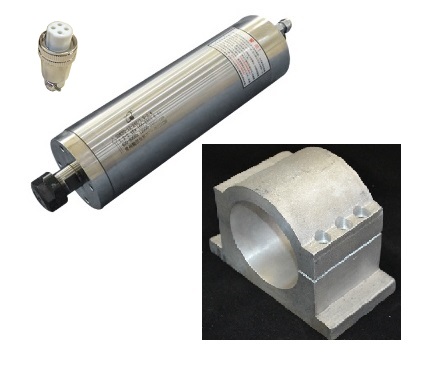 2200W 3HP Water Cooled CNC Milling Spindle, KL-2200T, for Metal and Aluminum, with 85mm Mount Bracket Clamp
Product in stock
2200W 3HP Water Cooled CNC Milling Spindle, KL-2200T, for Metal and Aluminum, with 85mm Mount Bracket Clamp
Product Description
2200w 3HP Water Cooled CNC Milling Spindle, KL-2200T
Constant Torque Spindle:  CONSTANT TORQUE electric spindles suit application where maximum cutting power is required near maximum spindle speed. Their torque is constant, so power increases steadily from zero at zero speed to full power at full speed.
This Spindle is used for Metal and Aluminum
Product name: KL-2200T,
Diameter: 85mm ( 85 mm Mount Bracket Clamp is included)
Rotating Speed: -12000-24000

RPM

Rated power: 2.2

KW

Torque: 0.88

Nm

Voltage: 220

V

Current: 7.6A
Frequency: 400

HZ

Number of Poles: 2

P

Connection of Spindle End: ER20
Cooling: Water-Cooled
Lubrication: Grease
Bearing No.: 4 bearing,  2X7005C P4, 2X7003C P4
Weight: 10

Kg

One Year Warranty
ER20 Collet Chuck. (But tool is not included: you can use 1/16", 3/32", 1/8", 3/16", 7/32", 1/4", 5/16", 11/32", 3/8", 13/32", 7/16", 1/2" ) or (1mm,2mm,3mm,4mm,5mm,6mm,7mm,8mm,9mm,10mm,11mm,12mm,13mm)
Runout off: less than 0.005mm
Water cooling about 20-26 gal/hr
about 15 ibs
Use this VFD:

Updating...