»
Featured Products
»
Motion Controller and Software
»
CNCDrive
»
AXBB-E Ethernet Motion Controller and Breakout Board Combined Controller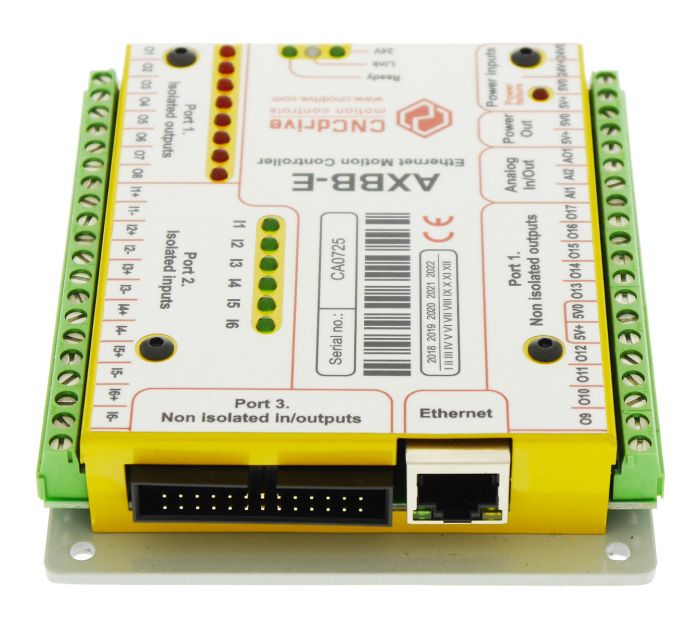 AXBB-E Ethernet Motion Controller and Breakout Board Combined Controller
Product in stock
AXBB-E Ethernet Motion Controller and Breakout Board Combined Controller
Product Description
AXBB-E Ethernet Motion Controller and Breakout Board Combined Controller
Features:
- Complete motion controller and breakout board solution in a single board.- 8 optically isolated high speed N-channel power mosfet transistor outputs.(NPN)- 9 non-isolated buffered TTL outputs to control step/dir signals, laser driver etc.
- Isolated charge pump output with power N-channel mosfet transistor.
- 6 high speed optoisolator inputs.
- 1 IDC26 non-isolated extension port with standard LPT port pinout (12 outputs and 5 inputs).
- LED indicators on isolated I/Os.
- Isolated I/Os are 24Volts capable.
One Year Warranty
You can purchase with UCCNC, MACH3, or MACH4 software, we will email the license key:
Downloads for this product:
2.) UCx00 automatic installer application for Mach3

Updating...