»
Featured Products
»
Motion Controller and Software
»
CS-LAB-CSMIO
»
6-axis CNC control system. CSMIO/IP-A board with simCNC Software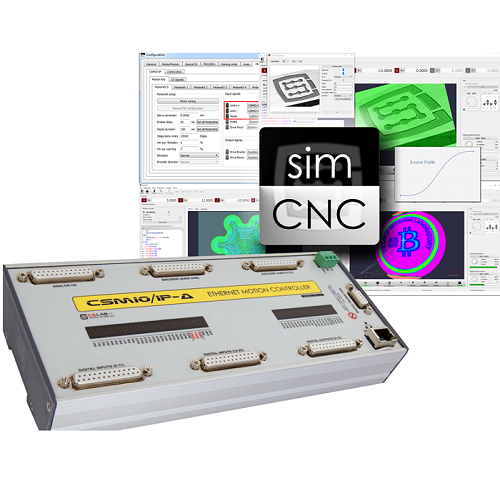 Sale!
6-axis CNC control system. CSMIO/IP-A board with simCNC Software
Product in stock
Price
$919.70
$879.70
You save: $40.00! (4.35%)
6-axis CNC control system. CSMIO/IP-A board with simCNC Software
Product Description
CSMIO/IP-A is a 6-axis motion controller. In combination with a PC and control software (simCNC, Mach3, Mach4) it's an ideal system for CNC machines control. CSMIO/IP-A was designed for professionals, CNC automation manufacturers,  retrofit specialists, and hobbyists, who want to equip their machine tool with an efficient, stable, and flexible CNC control system for a reasonable price.
How does it work? In short – control software (simCNC, Mach3, Mach4) installed on a PC is the brain and CSMIO/IP-A controller is the heart of the entire control system. Control software (simCNC, Mach3, Mach4) changes gcodes into motion trajectory and sends it through the network connection to the CSMIO/IP-A. Motion trajectory (axis position set value) with the feedback signal (axis position real value) is transmitted to the PID loop. Basing on these two values the PID loop generates a +/-10V signal. This division of tasks makes PC is less loaded than if using a classic parallel LPT port.
The Main Advantages
Operation Stability is provided by connection with PC via Ethernet – its physical layer is galvanically isolated, used protocols provide reliable and fast transmission even in a tough industrial environment). Practically any other interface do not provide continuity and reliability of transmission on such a high level as ETHERNET. That is why it is currently the worldwide standard for high-speed digital communication.
Easy installation – one of the biggest advantages of CSMIO/IP-A is the simplicity of installation. It does not require any external electronics for correct operation. Inputs/outputs signals are optically isolated, filtered (NOTE: analog signals aren't galvanically separated), protected against short circuits, overheating, etc. All digital signals are adapted to industry 24V standards. The device is enclosed in a compact housing, mounted on a DIN-rail, which makes mechanical and electronic installation in a control cabinet take less time and is even easier.
CSMIO/IP-A controller works with simCNC and Mach3/Mach4 software because of its low price, popularity, and enormous capability to adapt to specific requirements. As for the control signal, our choice is the +/-10V signal and feedback signal from scales or encoders. Our choice wasn't accidental. This was to let CNC installers use analog servo drives (that work in velocity mode) which we can find in older machines. CSMIO/IP-A is also a very good choice for new machines with precise analog drives. A big advantage of CSMIO/IP-A controller in new machines is even the fact that once referenced machine doesn't require homing as long as it wasn't turned off. This is highly valued by many users and very often is the reason for choosing the CSMIO/IP-A controller. Max. input frequency of feedback signal that reaches 6MHz lets you use encoders with large pulses number what in combination with high resolution – up to 16 bit – DAC converter provides great accuracy, machine smoothness and significantly improves driving system performance. This way many CNC machinists replace their original or other brand controllers with CSMIO/IP-A.
The main advantages of the CSMIO/IP-A controller
Encoder inputs frequency – the frequency is up to 6MHz which lets you use encoders with a large number of pulses, It's recommended to use the encoder with min. 10 000 pulses including all edges (2500×4). However, using fewer pulses per rev encoders won't make the dynamics of a machine much worse.
DAC converter – high resolution 16 bit DAC converter used in CSMIO/IP-A  controller with the recommended encoder provides precise and fast control of a machine. Using a 16-bit converter means that +/-10V signal (20V range) is divided into 65535 parts which gives  0.0003mV resolution of +/-10V analog output.
Data buffer – the mentioned trajectory buffer provides uninterrupted operation of a CNC machine, even in case of temporary problems with network connection or software control.
Slave axis support – up to 3 slave axes support with gantry geometry correction.
Safety system – very important advantage of CSMIO/IP-A controller is its own safety system. It constantly watches over the safety of a user and a machine. It consists of many independent algorithms and watchdogs which react very fast in case of forbidden or alarm situations. RESET support for axis drives. Support of FAULT signals from servo drives (immediate stop of a machine in case of any axis accident).
Solid aluminum housing, which dissipates heat and protects electronic circuits very well. Readable led controls on a front panel make it easier to install and simplify diagnostics in case of any problems with switches or another external device that cooperate with CSMIO/IP-A.
VB macros – you can control all digital and analog signals using Visual Basic (Mach3), Lua (Mach4), Python (simCNC) macros.
Industry-standard – CSMIO/IP-A controller is adapted to worldwide standards applied by servo drives manufacturers, including:

encoder signal inputs supported by differential line receivers DS26C32 (compliant with RS422),
+/-10V high-resolution outputs
Opto-isolated 24V DC digital outputs supported by specialized systems with protection against short-circuit and overload.
Opto-isolated 24V DC digital inputs
0-10V analog inputs that serve for connection of spindle rotation speed and axis feed rate correction potentiometers.
0-10V analog outputs – among others they serve for VFD control
Expansion modules
You can extend CSMIO/IP-A features using the additional expansion modules:
CSMIO-ENC – the module provides threading capability with encoder, rigid tapping
CSMIO-MPG – module for manual axes operation using handwheel encoder. Very smooth control of machine motion, automatic switching between speed and position modes.
CSMIO-IO – module of additional 16 digital inputs and 8 digital outputs (24V, opto-isolation, overload protection). You can use up to 16 of these modules.
The housing of the CSMIO/IP-A controller and all the expansion modules is adapted to DIN 35mm rail mounting.
In the CSMIO/IP-A package you will get:
CNC CSMIO/IP-A Controller
2 pcs.3xDB25 -> Terminal Block adapter
Ethernet connection wire
6xDB25 ribbon wire
1x 3 pin power plug
Control software
The device works with simCNC software by CS-Lab and Mach3/Mach4 software by ArtSoft. The software requires a software license.  You can purchase the simCNC, Mach3/Mach4 software licenses in CS-Lab online store. Mach3/Mach4 software license also directly on ArtSoft website.
Firmware and Updates
CSMIO Firmware (plugin) version 2.910 (and earlier) is for Mach3 .
In the DOWNLOAD section you will also find the new firmware v3.0 and its updates incl. CSMIO/IP (hardware FP4) plugin for simCNC and Mach4. CSMIO/IP controllers without FP4 sign (the sign printed on a front panel of CSMIO controllers) can't be used with the v. 3.0 and newer.
All of CS-LAB's controllers have a bootloader on board, so there is no risk of damaging the device after firmware update fails. The update is done using intuitive Firmware Update Utility, it does not require knowledge about the hardware. If a firmware update is available, you can download it from CS-Lab website.
Download
CSMIO/IP-A® 6-axis CNC Ethernet Motion Controller (+/- 10V)

Updating...