»
Featured Products
»
Motion Controller and Software
»
CS-LAB-CSMIO
»
CSMIO/IP-A Ethernet Motion Controller (+/- 10V) 6 axis with connectors, Mach3, Mach4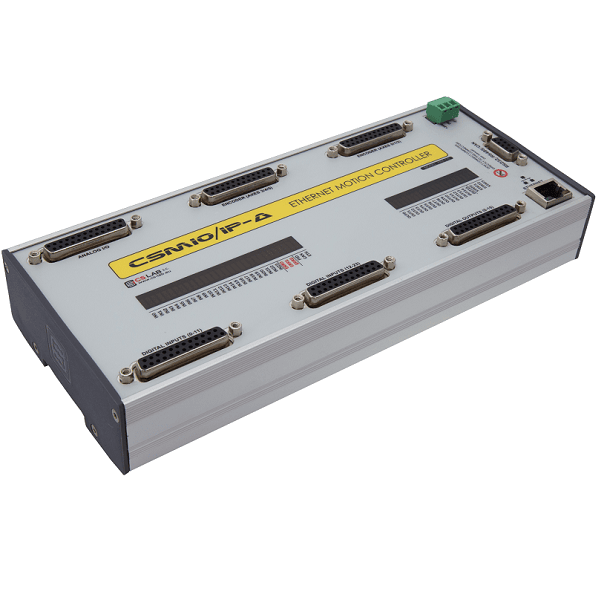 CSMIO/IP-A Ethernet Motion Controller (+/- 10V) 6 axis with connectors, Mach3, Mach4
Product in stock
CSMIO/IP-A Ethernet Motion Controller (+/- 10V) 6 axis with connectors, Mach3, Mach4
Product Description
CSMIO/IP-A Professional analog Ethernet Motion controller (+/- 10V)
---
The CSMIO/IP-A product was designed for professionals: CNC automation manufacturers,  retrofit specialists  and  even  mature  hobbyists, who want to equip (retrofit) their machine tool with an efficient, stable and flexible CNC control system for a reasonable price.  Our main goal is to achieve operation stability – hence the PC connection via Ethernet (its physical layer is galvanically isolated and protocols we use ensure reliable and fast transmission even in tough industrial environment). Practically any others interfaces do not provide the continuity and reliability of transmission on such a high level as the ETHERNET. That is why it is currently the worldwide standard for high-speed digital communication.
Another important goal was simplicity of installation. CSMIO/IP-A does not require any exter-nal electronics for proper operation. Inputs/outputs signals are inside optically isolated, filtered, pro-tected against short circuit, overheating etc. Of course, all I/O signals are adjusted to industry stand-ard 24V. The device is enclosed in a compact cover, mounted on a DIN-rail, what makes that mechan-ical and electronic installation in a control cabinet takes less time and is even simpler.
CSMIO/IP-A product works with Mach3 program because of its low price, popularity and enormous ability to adapt to specific requirements. To meet customers' needs, who prefer +/- 10V servo drive control standard, the CSMIO/IP-A was equipped in such an interface, and very fast encoder inputs allow for taking full advantage of encoders with large number of pulses per rotation, and the same let you to achieve such a precision and speed, which previously were unavailable in this price sector.
For an end-user point of view CSMIO/IP-A is almost identical as CSMIO-IP-S, with the only difference - used drive control system.
- CNC CSMIO/IP-A Controller
- 3xDB25 -> Terminal Block adapter (2 pcs.)
- Ethernet connection wire
- 6xDB25 connection tape (flat cable)
-"Phoenix" 3 pin power plug
- CD with electronic version of a user guide and firmware
Plug In

Updating...