»
Featured Products
»
Motion Controller and Software
»
CS-LAB-CSMIO
»
SimCNC control software for CNC by CS-Lab – Perpetual License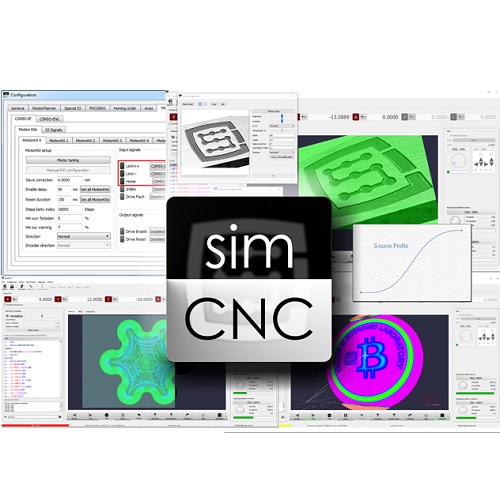 Sale!
SimCNC control software for CNC by CS-Lab – Perpetual License
Product in stock
Price
$192.00
$189.00
You save: $3.00! (1.56%)
SimCNC control software for CNC by CS-Lab – Perpetual License
Product Description
SimCNC is innovative control software for CSMIO/IP controllers.
The software provides dynamics and precision of motion not seen before in other proprietary CNC control software. This was achieved by the S-curve profile as well as sophisticated algorithms for motion trajectory optimization. It means that a machine can be fast, dynamic and precise at the same time and a treatment process is smooth and steady. It highly affects processing time, extends the life of tools and of mechanics of a machine. SimCNC software is equipped with Python scripting language.
The simCNC software is the result of our passion for numerical machines and years of hard work to achieve the ambitious goal – to create software that will provide users with the highest quality of movement, so far unprecedented in this price segment.
The program uses the popular, standard ISO G-Code trajectory description language, but when loading and working it analyzes every segment, arc or corner and practically recreates all shapes using advanced mathematical algorithms. Many variables are taken into account, such as given tolerance, speed, accelerations and type of curvature to generate data for the controller and axis drives in such a way that the movement is accurate, smooth and fast.
In many competing programs, motion is generated in such a way that the speed and position of the machine change smoothly but the acceleration changes in leaps and bounds. This is the so-called trapezoidal speed profile. At low acceleration values of 100-1000 mm/s2, it is not very noticeable, but it causes, among other things, a worse quality of the treated surface and faster wear of mechanical elements which perceive acceleration jumps as impacts. On the other hand, high accelerations (> 1000 mm/s2) are practically not used with the trapezoidal speed profile.
simCNC brings the quality to an incomparably higher level, because in its calculations it takes into account that the acceleration changes gradually. This is commonly referred to as the "S" speed profile. In practice, it often takes fractions of a second, but it makes a huge difference that can be felt on any machine tool – light, heavy, amateur or professional. Both on stepper and servo motors. In combination with the aforementioned advanced analysis and mathematical optimization algorithms, it allows to obtain excellent surface quality, shorten the machining time and significantly reduce the wear of the machine tool mechanics.
For all this, advanced electronics are required that can process the movement data stream in real time and transmit it to the axis drives without distortion. That is why we have also created a family of CSMIO/IP controllers that use Ethernet network connection for communication with the computer and are based on fast microprocessors, and some of them additionally use proprietary hardware solutions in specialized FPGA chips. By controlling both software and hardware, we are able to provide a complete system, the components of which fit perfectly together and which configuration is kept to a minimum.
The simCNC software was created on the basis of the newest solutions which allows it to work on all major system platforms: Windows, Linux and macOS. The software's interface is fast and responsive, so that it is always ready at your beck and call – as befits a tool that you enjoy using.
simCNC requires CSMIO/IP hardware version FP4 (since late 2014). You can check the FP4 sign on a front panel of your controller.
Get the simCNC license in a few simple steps:
Download simCNC software here: DOWNLOAD simCNC for Windows, Linux, Mac

Open simCNC software to see your CSMIO/IP controller connected in your network, its serial number, and MAC address.

Order simCNC license, enter the serial number and the MAC address of your controller via this online store or e-mail.

You will get your simCNC license file key in an e-mail. 
Detailed information about simCNC license purchase:
One simCNC software license can be assigned to only one CSMIO controller.
Download the simCNC software – available in DOWNLOAD section. For download and installation internet connection is required.  Check the "run as administrator" in your operation system box if not selected previously.
After you run the simCNC you will see a list of your CSMIO/IP controllers including serial numbers and MAC addresses (restart if you can't see the list).
Enter the SN number and MAC address and add the license to your basket. If you don't know the serial number nor the MAC address you can send them later to office@cs-lab.eu. Remember that without this information we are not able to send you the simCNC license key.
If you are buying the simCNC license and a CSMIO controller at the same time and you don't know the SN number and MAC address yet you can send us the SN number and MAC address after you get your CSMIO controller.

Updating...