»
Featured Products
»
AC/DC Servo Motor
»
DC Servo Motors and Driver
»
NEMA23 350 oz in Dual Shaft DC Servo Motor (KL23-130-60) with CUI AMT102-V Encoder and 6 Feet Encoder Cable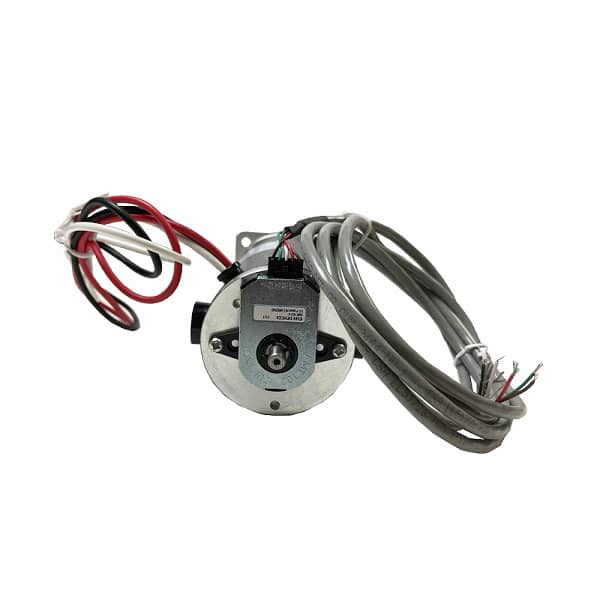 NEMA23 350 oz in Dual Shaft DC Servo Motor (KL23-130-60) with CUI AMT102-V Encoder and 6 Feet Encoder Cable
Product in stock
NEMA23 350 oz in Dual Shaft DC Servo Motor (KL23-130-60) with CUI AMT102-V Encoder and 6 Feet Encoder Cable
Product Description
DC Servo Motor (KL23-130-60) :
NEMA23 Skewed Rotor
Dual Shaft, Front Shaft 1/4" Rear shaft ¼"
(White is Ground, Red is +, Black is Common)
Skewed Rotor Design:Shaft ¼"
Constant Torque: 50 oz-in
Peak Torque: 350 oz-in
No load Speed: 4700 R.P.M
Terminal Voltage : 60 VDC
Continuous Current: < 4 A
Peak Current: > 20 A
No load Current: 0.5A
Weight : 1.4 kg
CUI AMT102-V Encoder KIT and cable:
A: (1) CUI AMT102-V Encoder KIT:
•patented capacitive technology
•16 dip switch programmable resolutions
incremental output resolutions
48, 96, 100, 125, 192, 200, 250, 256, 384, 400,
500, 512, 800, 1000, 1024, 2048
•straight (radial) and right-angle (axial) versions
•9 different mounting hole options for AMT102
•low power consumption
•line driver output available (CUI-10XE-10)
•-40°C to 100°C operating temperature
•TTL voltage output
•modular package
In order to provide maximum flexibility for our customers, the AMT10X series is provided in kit form standard. This allows the user to implement the encoder into a range of applications using one sku#, reducing engineering and inventory costs.
B: (1) 6ft Cable for CUI AMT102-V KIT Encoder
Manuals & Downloads
CUI AMT102-V Encoder KIT and 6 feet Cable
You can use this Servo Driver :

Updating...