»
Featured Products
»
Hybrid Stepper Motor Drivers
»
Digital Stepper Motor Driver- 32-bit DSP Based
»
2-Phase Digital Stepper Drives DMA860E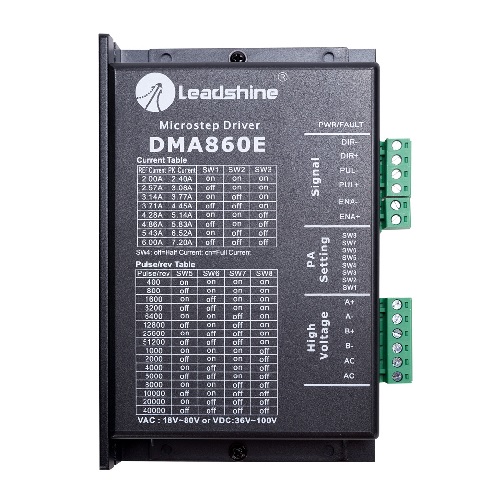 Sale!
2-Phase Digital Stepper Drives DMA860E
Product in stock
Price
$68.00
$59.00
You save: $9.00! (13.24%)
2-Phase Digital Stepper Drives DMA860E
Product Description
Leadshine AC/DC Microstepping Stepper Drive,
7.2A Per Phase,
2-Phase Output,
24-70 VAC/24-90 VDC,
Bipolar, Position Mode,
400 to 51200 Steps per Revolution.
Brand
Leadshine
Item
Stepper drive
Controller Type
Microstepping
Voltage Type
AC/DC
Amperage Rating
7.2A per phase
Number of Input Phases
1
Number of Output Phases
2
Nominal Input Voltage
24-70 VAC/24-90 VDC
Winding Type Control
Bipolar
Output Type
MOSFET, dual H-bridge and 4-quadrant output
Steps per Revolution
400 to 51200
Temperature Rating
0 to 65 deg C
Enclosure Type
Enclosed
IP Rating
IP20
Mounting
Panel
Control Mode
Position
Command Signal(s)

Step and Direction
CW/CCW

Number of Discrete Input Points
1
Discrete Input Type
Sinking/Sourcing
Tuning Mode
Pre-tuned
Idle Current Reduction
Yes
Drive Features
Anti-resonance (electronic damping) and auto motor matching (self-configuration)
Protection Type(s)
Configuration
Rotary dial, dip switches or jumpers
Manual:

Updating...