»
Featured Products
»
Hybrid Stepper Motor Drivers
»
Digital Stepper Motor Driver- 32-bit DSP Based
»
Digital Stepper Driver KL-3022 0.3-2.2A 18-30VDC for Nema 8, 11, 14, 16, 17 Stepper Motor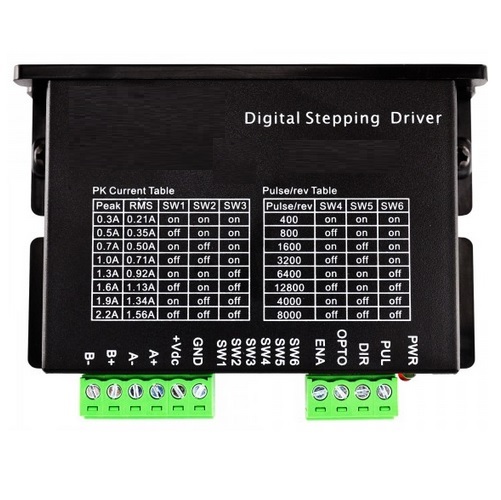 Digital Stepper Driver KL-3022 0.3-2.2A 18-30VDC for Nema 8, 11, 14, 16, 17 Stepper Motor
Product in stock
Digital Stepper Driver KL-3022 0.3-2.2A 18-30VDC for Nema 8, 11, 14, 16, 17 Stepper Motor
Product Description
This is a digital stepper drive implemented with advanced stepper control technology. It is easy to use and it can be used to drive 2-phase and 4-phase motors (from Nema 8 ~ Nema 17 size) smoothly with less heat and noise. It works with 18-30VDC voltage and can provide max 2.2A peak current. You can set the DIP switches to get the current and microsteps you need.
Key Features:
Anti-Resonance for optimal torque, extra smooth motion, low motor heating and noise
Motor auto-identification and parameter auto-configuration for optimal torque from wide-range motors
Step & direction (PUL/DIR) control
Multi-Stepping for smooth motor movement
Optically isolated inputs
Input voltage 18-30VDC
8 Selectable micro-step resolutions of 400-12800 via DIP switches
8 Selectable output current settings of 0.3 – 2.2A via DIP switches
Soft-start with no "jump" when powered on
Pulse input frequency up to 60 KHz
Automatic idle-current reduction
Protections for over-voltage and over-current
Electrical Specifications:
Output Peak Current: 0.3~2.2A (1.6 RMS)
Input Voltage: +18~30VDC
Logic Signal Current: 7~16mA (Typical 10mA)
Pulse Input Frequency: 0~60kHz
Isolation Resistance: 100MΩ
Operating Environment and other Specifications(Tj = 25℃/77℉):
Cooling: Natural Cooling or Forced cooling
Environment: Avoid dust, oil fog and corrosive gases
Ambient Temperature: 0℃ - 65℃
Humidity: 40%RH-90%RH
Operating Temperature: 50℃ MAX
Vibration: 10-50Hz / 0.15mm
Storage Temperature: -20℃ - 65℃
Weight: Approx.90g (3.5oz)
Manuals:
[Download not found]
Wiring:
Digitaldriverwiring (18604 downloads)

Updating...