»
Featured Products
»
CNC Routers, Milling, Plasma
»
Entry Level Machines
»
NEW 4 Axis KL-6040T 1.5KW CNC ROUTER ENGRAVER/ENGRAVING 110VAC USB Connection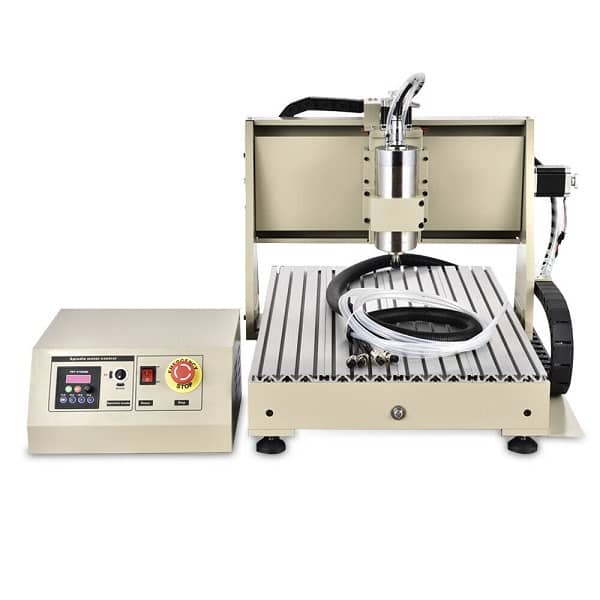 NEW 4 Axis KL-6040T 1.5KW CNC ROUTER ENGRAVER/ENGRAVING 110VAC USB Connection
Product in stock
NEW 4 Axis KL-6040T 1.5KW CNC ROUTER ENGRAVER/ENGRAVING 110VAC USB Connection
Product Description
You can come to our show room to check the machine 110VAC
if you need 220VAC, let us know first
USA Tech Support (847-984-0882)
Engraving Machine Parameters:
X,Y,Z Working Area : 600(Y)*390(X)*120(Z)mm
Outside dimension : 865*680*570mm(L*W*H)
Table size : 770(Y)*490(X)mm
Lathe structure : 6061/6063 Aluminum alloy
Max. Feeding height : ≤100mm
Drive unit
X axis :1605 Ball Screws
Y axis :1605 Ball Screws
Z axis:1204 Ball Screws
Sliding unit
X axis:High intensity Chromeplate shaft
Y axis:High intensity Chromeplate shaft
Z axis:High intensity Chromeplate shaft
Stepping motor:57 two-phase 3A 150N.cm
Spindle motor
tips:
1,The spindle motor must connect with the VFD.
2,It cannot directly connect with the supply voltage (AC110V).
3,Please don't change the data setting of the VFD if you are not professional technicians,
or it might damage the spindle motor.
Outside dimension:65*158mm
Material:304 stainless steel,Copper coil,Pressure cast aluminum pipe water jacket
VOLTS,current,power: AC110V/60Hz,5A,1.5KW VFD
Spindle speed : 24000 rpm
Max working frequency : 400Hz
Principal axis collet: ER11collet,Standard configuration :6mm
Nut Model:ER11-A
Cooling:Water-cooling
Speed mode:By adjusting the VFD output voltage and operating frequency
from 0-24000RPM
Lubrication way: lubricated by high grease
Repeat accuracy:0.05mm
Spindle precision:radial beat acuities 0.03mm
Carving Instructions: G code
Communication interface:through USB connection with computer
Maximum Idle speed:1500mm/min
Working Speed :50-1500mm / min (different material with different speed settings)
Control Box Parameters:
Operating Voltage:AC110V
Control unit:Toroidal transformer + PWM power supply module + TB6560 stepping motor drive
Computer connection:USB port
Command code:G code
Protection:Emergency stop button
Feature:
1,The NEW 1.5KW water-cooled VFD is available operating for long time,which can reinforced the processing abilty of the machine and can be used to
process aluminum alloy and hard wood.
2,water cooling spindle works more stable and durable.
3, High quality accurate ball Screws drive make the engrving more precision.Anti-blackflash,high precision,long life circle.
How to ues
1.Assembling and locating the machine on steady desk well.
2.Make sure that your computer has a 25pin parallel port output.
3. Place the contral box in a ventilated dry place where there is no dust,no moisture
4.Connecting the control box with the machine and you computer and make sure the plug will not come off.
5.Correctly connect the machine with the controller. Don't suspended the cable which connect the Spindle motor with axis(X,Y,Z,A).Otherwise, It will
damage the driver of the controller.
6.Correctly instal the Spindle motor and the heat pump. The heat pump should be covered completely in the water, then turned on the electric current to
check whether the water-cooling system working well.
9. Before turn on the machine, please check all the cable and water- cooling system to make sure they are working fine.
One Year Warranty
1: Do you have Mach3 software
https://www.automationtechnologiesinc.com/products-page/mach3-cnc-software/mach3-cd/
2: Do you have CAM software to make G-code
3: Do you need any training for this

Updating...