»
Featured Products
»
Motion Controller and Software
»
CNCDrive
»
6 Axis USB MOTION CONTROLLER UC100 with Relay and Spindle Control C11G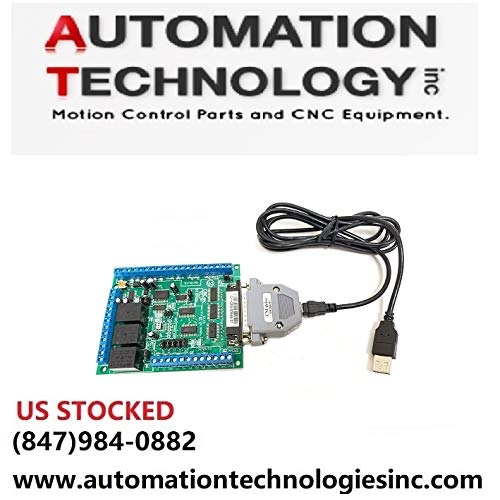 6 Axis USB MOTION CONTROLLER UC100 with Relay and Spindle Control C11G
Product in stock
6 Axis USB MOTION CONTROLLER UC100 with Relay and Spindle Control C11G
Product Description
Brand new 6 Axis USB MOTION CONTROLLER UC100 for Mach3/Mach4 with Relay and Spindle Control C11G
1. 1pcs UC100, 1pcs USB Cable, 1pcs Gender changer (USB cable: 1.8 meter long)
2. C11G: CNC 6-Axis Interface Breakout Board with Relay and Spindle control
Features:
UC100
Easy plug and play USB to Parallel port adapter. Works perfectly with UCCNC, and Mach3, Mach4. doesn't require any complicated wiring. Just plug it into the USB port on your computer, and then into your parallel port on your CNC controller!
 Replaces the LPT port.
 Controls upto 6-axis simultaneously.
 Works with for Mach3, Mach4, UCCNC  software via plugin.
 Upto 100kHz operation.
 USB connection to the control PC.
 Same pinout as a standard LPT port.
 Fast communication with data buffer for robust and stable operation.
 Gender changing parallel port adapter, so you can use either male or female connections.
Currently the automatic installer is working under the following operating systems:
 -- Windows 2000, Windows XP, Windows Vista, or Windows 7, Windows 10 
C11G
IEEE 1284 Standard compatible.
PULL-UP or PULL-DOWN selection for inputs.
Buffered inputs and outputs.
Microcontroller based SCHP.
Built-in Variable Speed Control.
Electromechanical Relays with NO and NC positions.
Status LEDs on all inputs and output connections.
Output pins 1, 2, 3, 4, 5, 6, 7, 8, 9, 14, 16 and 17. • Input pins 10, 11, 12, 13 and 15.
Input and output pins close to ground or +5vdc connections.
Common terminal for pins 2-9 can be ground or +5vdc.
External Enable Pin (EN).
Works directly with popular CNC hardware and software.
All TTL 5VDC signals.
Screw-On connections for all terminals.
All pins can be used in a concurrent manner

Updating...