»
Featured Products
»
Featured Products
»
KL-1313 CNC Router 51" x 51" x 11.0" T slot, Vacuum Table, Helical Rack and Pinion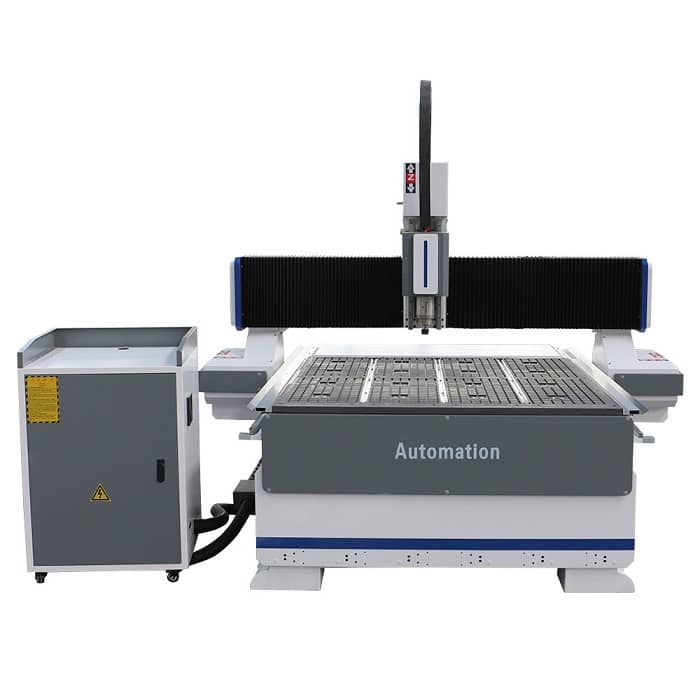 KL-1313 CNC Router 51″ x 51″ x 11.0″ T slot, Vacuum Table, Helical Rack and Pinion
Product in stock
This heavy, rigid machine is perfect for machining basically some material: from wood, plastic, aluminum. With a water cooled spindle, ER20 collet system - this machine will become an integral part of your shop toolbox. This machine is perfect for small prototypes, small signs, and any other common CNC router tasks.
KL-1313 CNC Router 51″ x 51″ x 11.0″ T slot, Vacuum Table, Helical Rack and Pinion
Product Description
KL-1313 CNC Router 51" x 51" x 11.0", with Mach3 or Mach4 control, or UCCNC
 T slot, Vacuum Table, Helical Rack and Pinion
Pls contact us to quote the shipping fee according your address
1: KL-1313 CNC Router ~51" x 51" x 11 ", It has  T-slots and Vacuum Table, helical rack and pinion in X, Y axis, It has Mach3 spindle and relay control board with USB Connection, you can use 32bit or 64 bit computer
Machine with 3.2W Water Cooled Spindle + 3.2KW 400Hz Variable Frequency Drive, 6000-24000 RPM
ER20 Collet Chuck
Working Size X,Y,Z : 1300 x 1300 x 270mm ( about 51" x 51" x 11")
NEMA34 Stepper Motor and Driver: 495 oz-in, 6A with 5:1 Pulley Reduction
Automatic Lubricated System
Resolution: about 0.05 mm
X, Y, Z Repeatability: 0.02 mm
Working Speed : 100 -500 IPM
Rapid: 500-800 IPM
X, Y, Z axis Stepper Motor Driver: High Quality Stepper Motor Driver
X, Y, Z Optical Switch
E- Stop, Z Height Probe
X Axis:  Rack Pinion Modulus: 1.25 mod
Y Axis: helical rack and pinion (Modulus: 1.25 mod) with pulley reduction 4:1
Z Axis 20m Linear Rail with 25mm Ball screw, 10mm lead
Spindle speed: 6000 to 24000 RPM
Table Grid Size: 8mm x 8mm
Each panel has a Valve to Control  ON/OFF
Machine size: 2050*2050*1700mm ( 80.7 " x 80.7" x 66.9")
Wood Packing Dimension: 89" x 75" x 77"
Machine Weight: About 1500 lbs
One year USA parts warranty
You can come to our show room to check the machine.
USA Tech Support Phone: 847-984-0882
2: You can run the router at 110VAc or 220VAC with a step-up transformer, from 110VAC to 220VAC ( Transformer is not included)
3: We use this Ethernet Board: Mach3 or Mach4 ESS board
4: a Wireless MPG is not included, pls check here
Start Up Procedure:
KL-1313 and KL-1325 Installing Guide (426 downloads)
KL-Series CNC Manual (4899 downloads)
You can add mach3, Mach4 or Computer
Fully Licensed Mach3 (Authorized), Email you license file
Fully Licensed versions of Mach4, Email you the license.
I5 CNC Computer with 19" monitor, Refurbished
You can use this lubrication Oil Mobil Vactra #2 Way Oil (1 Gallon)
SampleVideo:

Updating...