»
Featured Products
»
Featured Products
»
EtherCAT Motion Controller, Working with Mach4
EtherCAT Motion Controller, Working with Mach4
Product Description
EtherCAT Motion Controller:
Cost effective high quality EtherCAT Solution
Interfaces with Mach4 through plugin
Free EtherCAT PC Software EC-Link for easy configuration
Built on proven and reliable Platform
Import ESI files for different devices
 EtherCAT controller will support Mach4 Software via the reliable and proven Mach4 plugin.
+12 - 28VDC (Polarity Protected)
EtherCAT Drives Tested
Mitsubishi MR-JET, MR-J5
Omron 1S series
Delta ASDA-A2
Advantech AMAX I/O Block
Maxine EP3E-EC
Beijing CTB Technology 3-Axis Drives
Yaskawa SGD7S
LeadShine EM3E-A882
·8 Digital Inputs NPN Optical Isolated
4 Digital Outputs NPN 1Amp ea Optical Isolated
2 Relay N.O. Dry Contacts
Optional Expansion Plugs
PC Connection over Ethernet. No Special Motherboard Required.
Optional Analog Output 0-10V for spindle
Optional Encoder Input for Spindle Lathe Threading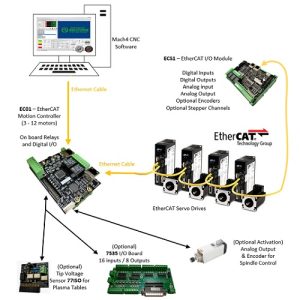 Updating...