»
Featured Products
»
Featured Products
»
Fully Licensed versions of Mach4, Email you the license.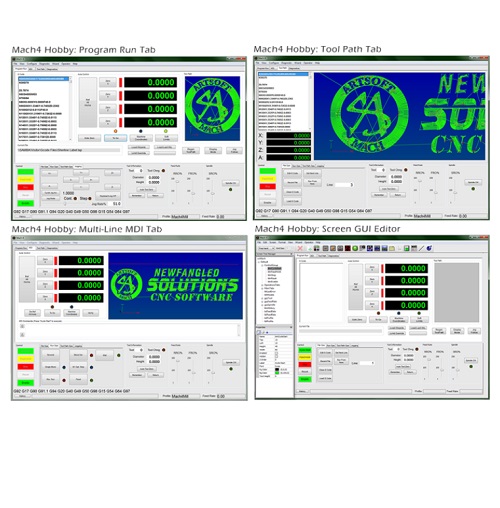 Sale!
Fully Licensed versions of Mach4, Email you the license.
Product in stock
Price
$200.00
$189.00
You save: $11.00! (5.50%)
Fully Licensed versions of Mach4, Email you the license.
Product Description
We are an authorized dealer.
Mach4 CNC Controller Software,
(pls email us the PCID , so we can email you the license file)
Follow this instruction and send us the PCID: Mach4 Installation Guide (273 downloads)
We will email you the license.   No refund after the license is emailed.
you need a USB or Ethernet Smoothstepper, click the following link:
6 Axis USB MOTION CONTROLLER for Mach3, Mach4 UC100, or UCCNC (USB UC100)
Ethernet SmoothStepper Motion Control Board for Mach3 and Mach4, 6 Axis (with cables)
Mach4 with ESS connection, Download tutorial here
Mach4 setting tutorial (1780 downloads)
IMPORTANT NOTE:
The LICENSE will only work for the Computer for which you supply the PC ID at checkout. Each PC has a unique ID code and the license works in coordination with this code.
Pls send us the PC ID after you install Demo
About the Demo: The purpose of this Demo is to give users a look at Mach4 Hobby and the ability to test the screen designer. The screen designer will be nearly identical in all versions of Mach4 and this version allows for the layout of GUI's. Scripting examples will be included in the next Demo. Many Motion control plug-ins (software driver for motion control boards) are not 100% complete. We are working with many different groups to help them complete and test their plug-ins for Mach4. A version with motion control will be released depending on the time to make improvements from the feedback received from this version.
Mach4 Information: Mach4 is our newest version of CNC motion control software. While the core software is completed, it will take time to complete the software plug-ins that allow Mach4 to communicate with specific hardware devices. OEM's and equipment manufacturers that have committed resources to developing their software plug-ins, will be the first to take advantage of Mach4's benefits. Much of the development of the plug-ins is completed by the manufacturer of the hardware.
Mach4 is completely new software and has less than 1% of the programming code in common with Mach3. It was written from the ground up to be expandable, flexible, and extremely responsive for use with very large files on any operating system; including Windows, Apple, and Linux. While there was only one version of Mach3, Mach4 will be offered in different versions (not including the many customized OEM versions).
Please read the tabs below for more information.
Screen Shots of the Standard Mach4 Hobby User Interface. Tab controls are used in Mach4 to switch quickly between different screens. Users may modify the standard screen or create a new tab that contains the buttons, graphics, and indicators they need.
you need a parallel port  or other plugin plugin to run motion.
Additional Details
Some New Features
- Type C (Fanuc) cutter compensation standard in Mach4.

More accurate tool path compensation for different size tools
Improved Anti-gouging

- Synchronous Motion of up to 6 completely separate coordinate systems (instances) at the same time.

Multiple heads, machines and processes to produce complex parts.

- Asynchronous Motion (out of band axis) to control uncoordinated motion.

Pre-change tool changers
Robotic Loaders
Torch height manual compensation control

- Multi-Axis Work Shifts and Head shifts to offset cutting tool path for multiple work piece holders and fixtures.- Remote Control of machinery (IPC)

Control or track CNC equipment from a remote location
Greatly expanded troubleshooting
Track the operation of equipment
Link information between other computer applications
Excel, etc…

- New Dynamic tool path display

View, rotate, pan, and scale the tool path quickly and easily to ensure G-code is creating the path you expect.

- Improved screen layout and easily customizable screen modification tool.

Change buttons, displays, and indicators easily, quickly, and on the fly!

Updating...