»
Featured Products
»
Laser-Engraving
»
Industrial Level Machine
»
CO2 Laser Cutter and Engraver With Auto Focus, 90W, RECI CO2 Glass Tube, Auto Focus, 36 inch x 24 inch (690-90W)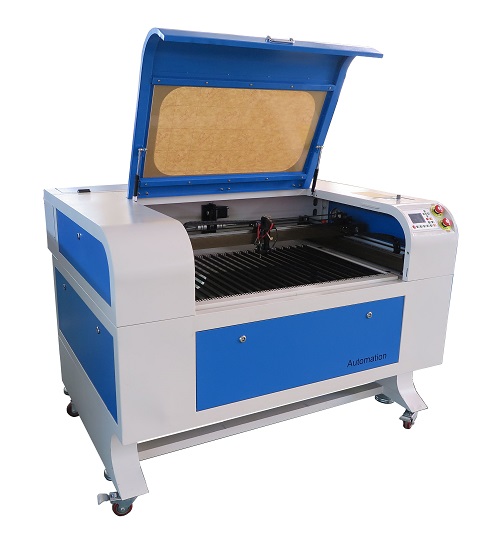 CO2 Laser Cutter and Engraver With Auto Focus, 90W, RECI CO2 Glass Tube, Auto Focus, 36 inch x 24 inch (690-90W)
Product in stock
CO2 Laser Cutter and Engraver With Auto Focus, 90W, RECI CO2 Glass Tube, Auto Focus, 36 inch x 24 inch (690-90W)
Product Description
690-90W, Brand New Laser Engraving Machine, You can come to our show room to check in Chicago
or call me at 847-984-0882
Following Item are included
1: Honeycomb Table
2:Water Chiller, CW3000
3: Exhaust Fan
4: Air Assist with Compressor
5: Auto Focus
6: Automatic Z Table, Full up/down table
7: Red Dot Point
8: Ruida 6442G Controller
Specifications:
Laser Power: 90W,  Min 80W, Max 100W
Work Area: 890 mm x 610mm, 36"x24"
Full Machine Size: 1480 x1060 x 1080 mm, 59"x 42"x 43"
Driving System: Stepper Drives
Vertical Z Travel of Table:  about 8 inch
Cooling Mode: Water Cooling with Flow Protection
Controlling Software: DSP Control System, LaserWork
Compatible Software: CorelDraw, AutoCAD, Photoshop
Supported Graphic Format: BMP, JPG, PLT, DXF, AI
Engraving Speed: 0-54,000mm/min
Working Voltage: 110VAC
Net Weight: 185kg/410lbs
Packing size: 65" x 54" x 54"
Are the steppers 2 phase or 3: They are 3 phase
Which series Reci tube is used in your machine: W2 Series
How many watts is the exhaust fan: 550W
Is the Z axis a stepper motor or DC: 2 phase stepper motor
Color Blue
One Years USA Part Warranty
3 Month co2 laser tube warranty
1. Applicable materials:
Cloth, leather, fur, acrylic, plexiglass, wooden board, plastic, rubber, bamboo, product, resin and other non-metal
2. Applicable industries:
The machine is suitable to cutting of garment and leather, package and
printing, advertisement decoration, building upholster art gift, computer embroidery, paper product, acrylic board etc.
Connect the machine to ground, do not forget
We will charge the actual shipping fee because the website can not calculate
We will send you a PayPal request for shipping fee difference
Machine color or style may vary.
Machine Wiring: 
80w-Machine-Tube-and-Software-installation (1690 downloads)
Installation-of-Laser-Tube (1118 downloads)
Laser-Tube-Usage (1171 downloads)
RDCAM-Software-SetUp-Manual (2250 downloads)
Connection Settings with your Desktop/Laptop:
Machine Wiring:
USB or Ethernet Connection:
Laser Machine Connection Setup (1068 downloads)
Laserwork Software
Check out the video below if there is no fire from the laser tube
(Be careful and protect yourself from the high voltage while testing!!)
Some common products include CerMark, Enduramark, and LaserBond – allow it to dry, and then perform the engraving as normal. The heat from the laser bonds the solution to the metal, resulting in a permanent black, silver, or sparkle-type mark from a CO2 laser machine.

Updating...