»
Featured Products
»
Hybrid Stepper Motor Drivers
»
KL Stepper Drivers
»
KL-11080 8 Amp Bipolar Stepper Motor Driver, AC 80-120VAC input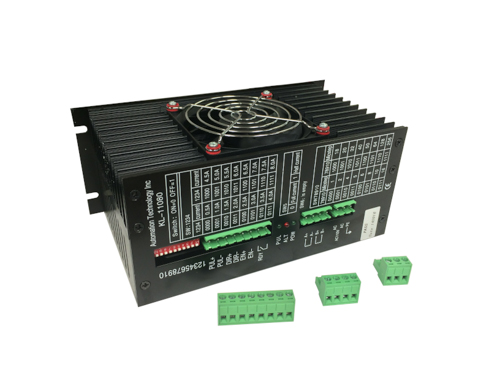 KL-11080 8 Amp Bipolar Stepper Motor Driver, AC 80-120VAC input
Product in stock
Featuring a built in power supply, the KL-11080 microstepping stepper driver module is a high power and ultra-easy to implement solution. 80-120VAC input and 8 amp power handling.This drive is opto-isolated for protection.
KL-11080 8 Amp Bipolar Stepper Motor Driver, AC 80-120VAC input
Product Description
1: High Performance
2: Supply voltage AC 80-120VAC, Power supply is built in.
3: Automatic Idle-Current Reduction
4: Micro step: 1,2,4,5,6,8,10,16, 18,10,32,40,50,64,128,256
5: Current: 0.5A, 1.0A,1.5A, 2.0A,2.5A,3.0A,3.5A,4.0A, 4.5A
5.0A, 5.5A, 6.0A, 6.5A, 7.0A,7.5A, 8.0A
5: Full or Half Current Mode: Sw5: 1 = Half Current, 0: Full Current
6: TTL compatible and Optically Isolated Signal I/O
7: Short-voltage, over-voltage, over-current and over temperature
protection
8: Pulse input frequency up to 200 KHz
9: Support PUL/DIR
10: SW6 set to 0, it will run forward and backward. SW6 set to 1, it will run forward only
Size: about  H4.5" x W3.5" x L7"
It is used for high Inductance NMEA34 or NEMA42 motor, pls wire the motor as bipolar series
You do not need power supply. This driver is for high inductance motor, you need to wire the motor at serial bi-polar configuration.
Manuals & Downloads
People who bought this item also bought

Updating...