»
Featured Products
»
Motion Controller and Software
»
Mach3/Mach4 CNC Software
»
Mach4-Industrial
Mach4-Industrial
Product Description
You will be Buying one License for Mach4-Industrial.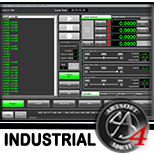 IMPORTANT NOTE: The LICENSE will only work for the Computer for which you supply the PC ID at checkout. Each PC has a unique ID code and the license works in coordination with this code.
Mach4 is not designed for a specific motion control device and will need a plugin and motion control board to operate a CNC system.
This breakout board is recommended

Updating...