»
Featured Products
»
Motion-Controller and MPGs
»
6 axis USB SmoothStepper Motion Control Board with Terminals for Mach3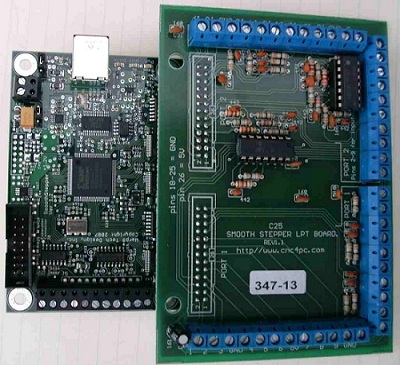 6 axis USB SmoothStepper Motion Control Board with Terminals for Mach3
Product in stock
6 axis USB SmoothStepper Motion Control Board with Terminals for Mach3
Product Description
Windows 2000, Windows XP, Windows Vista, or Windows 7 Operating System will be ok
Overview .
Brand New USB SmoothStepper Motion Control Board with Terminals for Mach3
This is a brand New USB SmoothStepper Board with Screw terminals, (no cables)
It is very easy to connect
The SmoothStepper is a motion control device that connects to the USB of a computer. It accepts commands from a software package such as Mach3, and produce very high quality pulse trains that drive step & direction motors.
At this time the only software package it works with is Mach3, but a Software Development Kit (SDK) is planned, which will allow you to control the SmoothStepper with your own software.
Features
• Works through USB,  there is no need for a PC with parallel ports. It simulates 3 parallel ports.
• Generates pulse rates of up 4Mhz.
• Works directly with Mach3.
• Online Support Forum.
• Has 51 I/Os.
Full access to all the pins of the Smooth Stepper Board
Plugs in directly into the Smooth Stepper Board. You only have to screw-on the wires to make all your connections.
Screw-On connections for all terminals. You only have to screw-on the wires to make all your connections.
Pins 2-9 on port 2 are used for inputs. Schmitt triggers where added to pins 2-9.
Product Manual& Downloads
ESSTerminal (6020)
Wiring Sample; Downloads
Additional Details
This driver works on the following operating systems:

Windows Server 2008 R2
Windows 7
Windows 7 x64
Windows Server 2008
Windows Server 2008 x64
Windows Vista
Windows Vista x64
Windows XP
Windows XP x64
Windows 2000
Windows Server 2003
Windows Server 2003 x64

or more
People who bought this item also bought

Updating...