»
Featured Products
»
Motion-Controller and MPGs
»
C82 - Dual Port Multifunction Board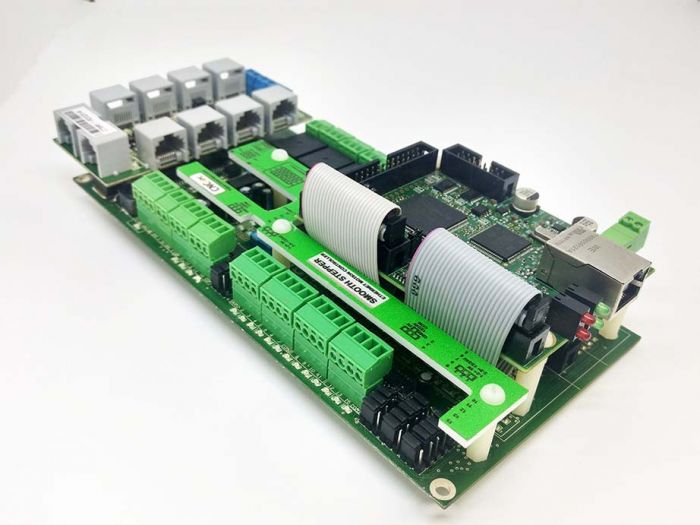 C82 – Dual Port Multifunction Board
Product in stock
This card has been designed to provide a flexible interface and functions to your computer projects, by using the parallel port control software. This board comes with sockets that allow direct connection of a Smooth Steeper Board (from Warp9 Tech Design Inc - not required).
C82 – Dual Port Multifunction Board
Product Description
Dual Port Multifunction CNC Board (C82 + C78 RJ45 CONNECTION BOARD, Ethernet Smooth Stepper board is optional)
The C82 supplies full access to the power of the Ethernet Smooth Stepper board.
Ethernet SmoothStepper Motion Control Board for Mach3 and Mach4, 6 Axis (Without Cable)
Please set up the jumper on the ESS board as shown in the following picture
FEATURES:
Designed for ESS AND ETHER-MACH motion controller.
Built-in PWM-Based Speed Control and Two Built-in Electromechanical Relays with NO and NC positions for spindle control.
The system monitors:

E-Stop
Safety Charge Pump.
VFD Fault.
Driver Fault.

Discrete Inputs and Outputs can be using with +5vdc TTL logic or 10-30vdc Logic.
Electromechanical Relay with NO and NC positions for general purpose (Port_2 16 or 17, jumper-selectable).
Microcontroller based SCHP.
Optoisolated inputs. Can be powered with a voltage between +10 and +30VDC.
Status LEDs on all input and Output connections.
DIN Rail mountable.
Pluggable Screw-On Terminals.
It is compatible with family of C34 connector boards that allow quickly connecting to popular drives connecting not just the step and direction signals, but also the fault and enable signals.
Mach4 Plugin Installation Video

Updating...