Stepper Motor | Stepper Motor Driver | CNC Router | Laser Machine | 3D Printers For Sale
»
Featured Products
»
Breakout Boards and MPGs
»
Motion-Controller
»
CNC 6-Axis Interface Breakout Board with Relay and Spindle control
CNC 6-Axis Interface Breakout Board with Relay and Spindle control
Product Description
Description:
Features : 
Product Name: MACH3 interface board
1: It has  5V and 12V output. Six Axis ( X,Y,Z, A,B,C)
2: USB powered with external power supply. Power supply isolation. Computer and machining data is more Reliable
3: All of the input signal all the optical coupling isolation. P11, P12 port for high-speed optical coupling can be used for the spindle encoder, or handwheel
4: It has a relay Control, support MACH3,
5: It  has a spindle Control
Output 0-10V level to control there is only analog speed control inverter to control the spindle speed. The output for the parallel port P1.
6:  the interface board can be connected to the stepper drives, servo drives. The output of the 5V level.
7, Supply voltage can be 24V, One is 16-32V input (the design of anti-reverse function)

5 input port:  Port description:
P10 X limit, P11 on limit
P12 emergency stop
P13 Y limit, P15 Z limit
11 output ports :Port description
P4 X pulse, P5 X direction
P6 Y Pulse, P7 Y direction
P8 Z pulse, P9 Z direction
P16 4 pulse, P17 4 Direction
P2  alternate port,  P3 alternate port
P14 spare port

Package

1 x MACH3 interface board BV2
if you use Relay and Spindle Control, you need to add a 24V power
Mach3 set up for this board, Download here
Mach4 set up for this board, Download here
Wiring Diagram for machine, Download here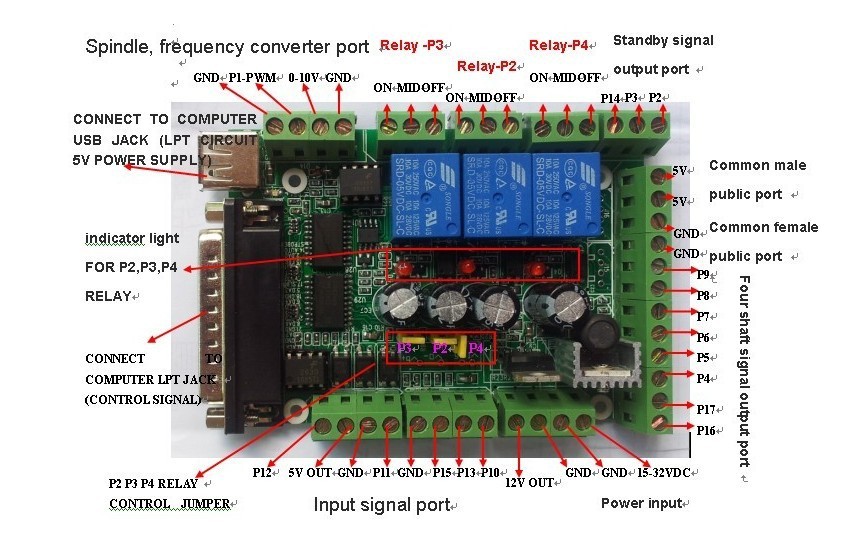 People who bought this item also bought

Updating...