»
Featured Products
»
Motion-Controller and MPGs
»
Motion-Controller
»
C32 Dual Port Modular CNC Breakout Board (RJ45)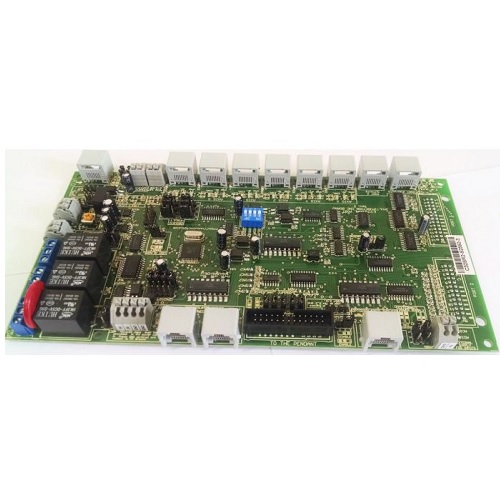 C32 Dual Port Modular CNC Breakout Board (RJ45)
Product in stock
The c23 This card has been designed to provide a flexible and easy connections using (RJ45 and Networks Cables) interface to drivers and function boards. This board comes with sockets that allow direct connection of a Smooth Steeper Board (from Warp9 Tech Design Inc) or DB25 headers. It also serves as an interface board for the pendants provided by CNC4PC (MPG2, MPG4, and MPG8).
C32 Dual Port Modular CNC Breakout Board (RJ45)
Product Description
Dual Port Multifunction CNC Board (RJ45)
FEATURES
Connects directly to the Smooth Stepper (from Warp9).
IEEE 1284 Standard compatible
Built-in PWM-Based Speed Control.
Built-in Isolated DC-DC converter for analog output voltage.
Two Built-in Electro Mechanical Relays with NO and NC positions for spindle control.
RJ45 Connector for Easy VFD Connection.
Monitors E-Stop, Safety Charge Pump and Drivers.
Monitors VFD alarm signal.
Enables and disable the drivers.
Electromechanical Relay with NO and NC positions for general purpose (Pin 2_16 or Pin 2_17, jumper-selectable).
Microcontroller based SCHP.
RJ45 connectors for all I/Os.
Easy Connections with CNC4PC relay boards and speed control boards.
Connects 4 and 6 axis pendants (MPG2, MPG12, and MPG8)
Opt-isolated inputs.
Works with regular parallel ports.
All TTL 5VDC signals.
Buffered outputs.
Status LEDs on all inputs and output connections.
Works directly with popular CNC hardware and software.
34 inputs and outputs.
Product Manual
Software, Installers and Configuration Files
Wiring Information
Videos
Instructions

Updating...