»
Featured Products
»
Motion-Controller and MPGs
»
MPGs
»
MPG2 – Control Pendant with MPG, E-stop, (4 Axis)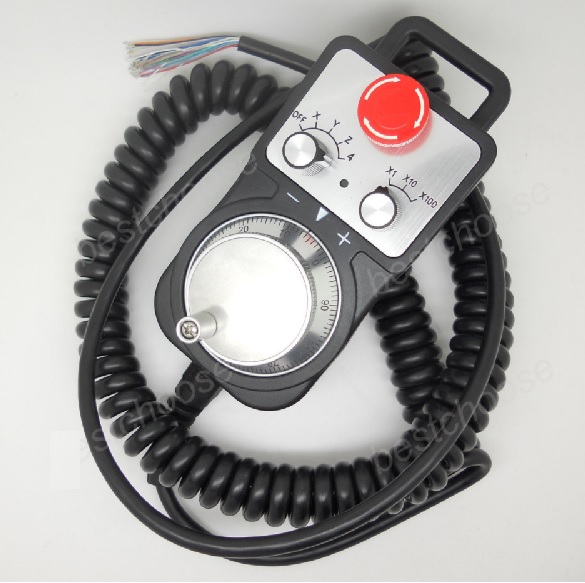 MPG2 – Control Pendant with MPG, E-stop, (4 Axis)
Product in stock
This manual control pendant provides convenient and dependable control for your CNC or other motion control project. Contains a 100CPR optical quadrature rotary encoder, e-stop switch, 4-axis selection switches, and lots more!
MPG2 – Control Pendant with MPG, E-stop, (4 Axis)
Product Description
Universal CNC 4 Axis MPG Pendant Handwheel & Emergency Stop for Siemens
Description:

- The CNC 4 Axis handheld controller MPG Pendant with x1, x10, x100 selectable, You are bidding one complete unit of the MPG pendant with Emergency stop for 4 axis CNC machine, it equipped with our popular machined MPG unit with 4 axis and scale selector, LED indicator also send feedback from the CNC machine to user about the status of the unit.
- All Wiring isolated from MPG unit and provide a easy to install wiring diagram, it suit both commercial machine as a replacement jog control unit or other computer based controller. Which add great control flexibility to the system.
Features :
- x1, x10, x100 switch
- X,Y,Z,4th axis selector switch
- LED indicator
- With Emergency stop
- High quality professional chassis
- 6ft extendable high quality shielded cable cord
- Magnetic base holder can place anywhere on the machine steel surface
- Required 5V+, 150mA, power for MPG
- Phase output is A ,/A and B,/B;
- TTL output, drive capability +-20mA;
Wiring:
- User can wire this unit to the CNC system with easy.
Package Content:
- 1 x CNC 4 axis MPG Pendant With Emergency stop

Updating...