»
Featured Products
»
Hybrid Stepper Motors
»
NEMA 23 Stepper Motor
»
IP40 NEMA23 Back Cover Kit, for 57mm Frame Motor, Not for 60mm Frame Motor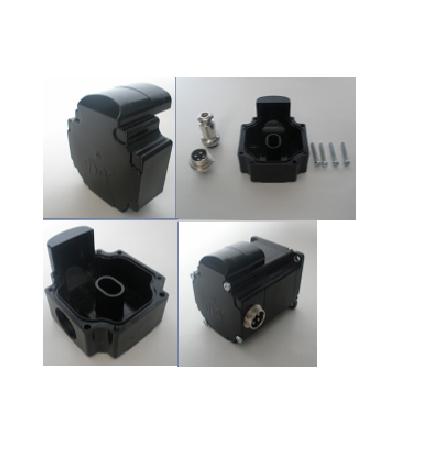 IP40 NEMA23 Back Cover Kit, for 57mm Frame Motor, Not for 60mm Frame Motor
Product in stock
IP40 NEMA23 Back Cover Kit, for 57mm Frame Motor, Not for 60mm Frame Motor
Product Description
IP40 NEMA23 Back Cover Kit, for 57mm Frame Motor, Not for 60mm Frame Motor
A neat solution to cover the stepper motor back side providing connector interface, motor wiring protection and rear shaft (if applicable) protection.
An aesthetic solution to a common problem

Connector interface for easy maintenance and setup process

For a professional looking machine

Works for the 56 x 56 mm stepper motors, not the larger 60 x 60mm (570 oz-in).

Features:
Quality made of a durable plastic

Easily mounts using the motor's existing screw holes

Provides IP40 protection

Suitable for both motors with or without rear shaft.

Incorporates a sleeve protecting the rear shaft of a motor from interfering with the wiring.

Comes with pre-drilled centre marks for fast and easy drilling of the mounting holes to suit the motor.

Each kit contains: 1 motor cover, 4 M3x25 mounting screws, 1 panel mount 4-pin connector and 1 mating cable end 4-pin connector.

Updating...