»
Featured Products
»
Hybrid Stepper Motors
»
NEMA 34 Stepper Motor
»
NEMA34 465 oz/in 3.5A Stepper Motor Dual Shaft (KL34H260-35-4B)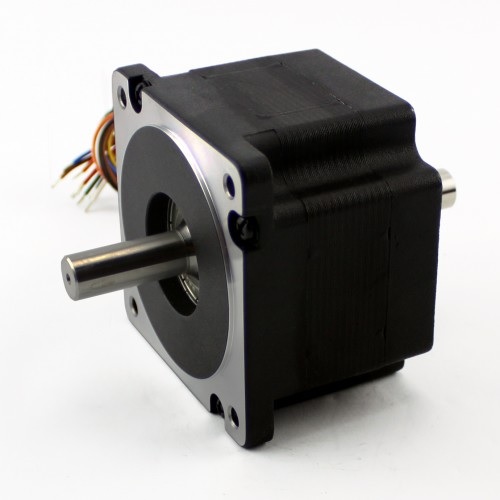 NEMA34 465 oz/in 3.5A Stepper Motor Dual Shaft (KL34H260-35-4B)
Product in stock
This large and powerful NEMA34 stepper motor designed for G540 driver. 4 wire bi-polar operation; with 1/2" dual drive shaft.
NEMA34 465 oz/in 3.5A Stepper Motor Dual Shaft (KL34H260-35-4B)
Product Description
Stepper Motor KL34H260-35-4B
(1/2" Dual Shaft ) 465 oz-in
Rated at 3.5A,
Inductance 4.2 mH
465 oz in
1.8° /200 Steps Per Rev.
3.5 Amps Current Per Phase (Bipolar Parallel)
4-Wire Bi-polar,
NEMA 34 Frame
Torque Curve
KL34H260-35-4BTC (934 downloads)
Manuals & Downloads

Updating...