»
Featured Products
»
Hybrid Stepper Motors
»
NEMA14 Stepper Motor
»
NEMA14 Stepper Motor (KL14H234-08-4A) (5mm shaft with a flat) 28 oz in. Hybrid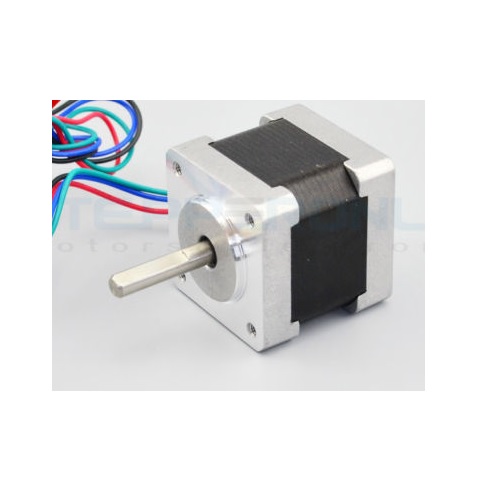 NEMA14 Stepper Motor (KL14H234-08-4A) (5mm shaft with a flat) 28 oz in. Hybrid
Product in stock
NEMA14 Stepper Motor (KL14H234-08-4A) (5mm shaft with a flat) 28 oz in. Hybrid
Product Description
NEMA14 Stepper Motor (KL14H234-08-4A) (5mm shaft with a flat) 28 oz in.
Might need to ship from our China warehouse, the shipping fee will differ.
Specifications:
Shaft: 5mm diameter with flat
Current Per Phase: 0.8A
Holding Torque: 20 N.cm  (28 oz-in)
Rated Voltage: 5.4V
NO.of Phase: 2
Step Angle: 1.8° ± 5%
Resistance Per Phase: 6.8Ω± 10%
Inductance Per Phase: 8.5mH± 20%
Insulation Class: Class B
Dielectric Strength: 100Mohm
Operation Temp Range: -20 ~ +40° C
 Lead Wire: 24AWG /400mm with connector to stepper motor driver

Updating...