»
Featured Products
»
Close Loop Stepper Motor System-Hybrid Servo Kit
»
NEMA34 Close Loop Stepper Motor System-Hybrid Servo Kit
»
NEMA34 Closed Loop Stepper Motor System-Hybrid Servo Kit 1128 oz-in ( KL-8080L&KL34-8N-1000L)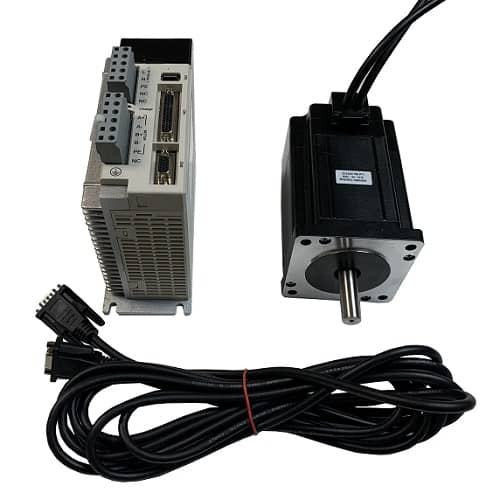 NEMA34 Closed Loop Stepper Motor System-Hybrid Servo Kit 1128 oz-in ( KL-8080L&KL34-8N-1000L)
Product in stock
NEMA34 Closed Loop Stepper Motor System-Hybrid Servo Kit 1128 oz-in ( KL-8080L&KL34-8N-1000L)
Product Description
NEMA 34 Hybrid Servo kit (closed-loop stepper system):
1pc Hybrid Servo Driver KL-8080L
1pc NEMA34 KL34-8N-1000L Hybrid Servo Motor with one Encoder 1000 line
1pc 3 meter cable or longer
A: KL-8080L 2-phase Hybrid Servo Driver:
KL-8080L is a low cost, high performance servo systems, for a variety of large-scale automation equipment and instruments, it is better for user to expect with low-cost, low vibration, low noise, high-precision, high-speed equipment, more suitable lower rigidity actuator load, such as a belt type than conventional servo.
Input 60-110VDC / 45-80VAC,  No Tuning, Nulls loss of Synchronization
Output 6.0 A
High-performance, low price
Micro-step
Automatic idle-current reduction
Optical isolating signals I/O
Max response frequency up to 200Kpps
Low temperature rise, smooth motion
Online adaptive
B: NEMA34 Hybrid Servo Motor, KL34-8N-1000L, 1/2" Shaft
Rated Torque 1128 oz-in, 8 N-m, with Encoder 1000 line
Number of Phase: 2
Step Angle:  1.8°±5%
Motor Holding Torque: 8.0 N.m
Current: 6.0A
Phase Inductance(1KHz): 4.3 ±20%mH
Wiring:
A+ to BLU
A- to RED
B+ to GRE
B- to BLK
C: 3 or 5 meter Encoder cable
1000 pulses per revolution
Quadrature digital signals: 4000 steps per revolution
4000 / .05 pitch
80,000 counts per unit
The encoder interface definitions (CN2 interface of the driver):
Pin 3 --> White --> EGND
Pin 2 --> Red -- > VCC
Pin 13 --> Blue --> EA-
Pin 1 --> Black --> EA+
Pin 12 --> Green --> EB-
Pin 11 --> Yellow --> EB+
Power supply to use:
72V/8A Switching CNC Power Supply (110VAC/220VAC ), KL-600-72
or
Unregulated Linear 1440W/72VDC/20A Toroidal PSU (KL-7220)
---
Driver Manual Download:
Motor Specification:
Testing Video:
Tested for a customer with 60VDC power supply.

Updating...