»
Featured Products
»
Motion-Controller and MPGs
»
PoKeys
»
6-Axis Step/Direction Ethernet Motion Controller, Industrial Version, Mach4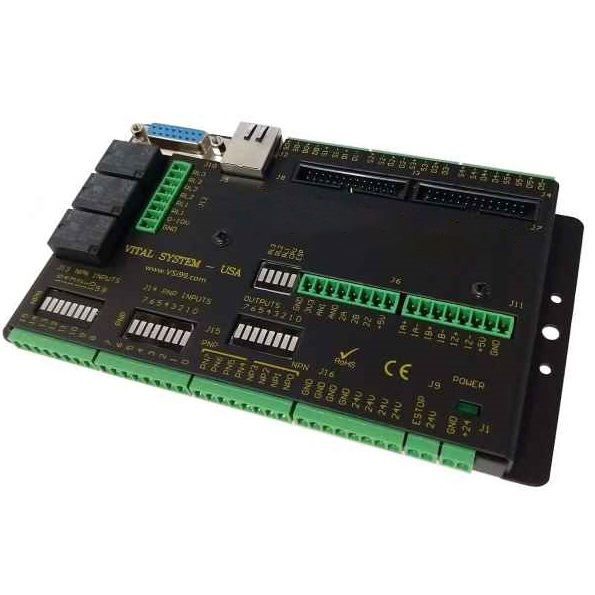 6-Axis Step/Direction Ethernet Motion Controller, Industrial Version, Mach4
Product in stock
6-Axis Step/Direction Ethernet Motion Controller, Industrial Version, Mach4
Product Description
Mach4 is excellent PC-based software solutions for CNC, and when paired with This motion controller, creates a state of the art CNC solution for machine-shop and industrial applications.
Mach4 used in tandem with This simplifies configuration and integration, and greatly increases operation reliability.
HiCON Integra motion controller works Mach4 software and Digital Drives (stepper or servo motors) using Ethernet communications. HiCON Integra provides excellent integration with Mach4 CNC software, proven by hundreds of end-users since 2011. The controller generates hardware synthesized motion pulse train using state-of-the-art FPGA devices that offers extremely smooth motion profiles compared to the low cost controllers in the market. HiCON Integra is packed with comprehensive set of features for your CNC application and provides an all-in-one solution of controller and breakout board that greatly simplifies system integration and maintenance.
Mach Software and  setup:
Copy the   plugin for Mach4 to the plugins folder in the Mach installation directory (e.g.  "C:Mach4plugins").
Launch Mach software and perform all necessary configurations via the user friendly config screens accessible via   plugin config selection.
For more information, consult
The Integral controller can be used in a variety of applications, e.g.,
CNC Routers
Plasma / Oxy Fuel Tables
Milling / Lathe CNC Machines
PC Based or Standalone Motion and I/O Controller
Storage and Retrieval Systems
And many other apps....
Controller Features:
6 Step and Direction Channels. Up to 2MHz Step Frequencies
2 Quadrature Encoder Inputs (Expandable to 8).
4 Mhz Max Encoder frequency. Encoder resolution multiplied by 4 thru Hardware.
Optional 2 Channel Analog Inputs, Range 0 - 3.3 Volts, 12-bit Resolution
31 Digital I/O and 5 Relays (Optional 48 Digital I/O available via Expansion Connectors)
Ethernet 100Mb connectivity using TCP/IP interface.
Dedicated limit and estop sensor inputs for ultra-fast system disarm
Modes of Motion: Point-to-Point, Linear and Circular interpolation, Jogging, Electronic Gearing, Feed rate Override
SDK Libraries available for Software Developers.
Optional Standalone Operation by programming the unit with BASIC or C programming language for high-speed I/O processing.
Industrial-strength steel enclosure
Customization of hardware and firmware features upon request
CNC Features
MPG Control using Electronic Gearing for quick response.
Probing.
Lathe Threading.
Rigid Tapping
Backlash compensation.
Manual Mode
Homing Using Home Sensor and/or Index Pulse.
Rotary Axis Homing with Index pulse.
Use One Home Sensor Input for all axis, or separate Home Sensors for each axis.
Use Limit switches as homing sensors.
Feedrate Override above 100%.
Instant FeedHold
Slave Axis Support.
PID Tuning Graph.
Spindle Orientation and Tool Change Support
Multiple Spindle control type: 0-10v, Servo Spindle, GCode Spindle (Allows easy integration of Tool Changer).
High Speed 3D machining support.
Quick connect 15-pin plug for MPG
Basic and C Internal programming for fast I/O logic and Tool-Changer Applications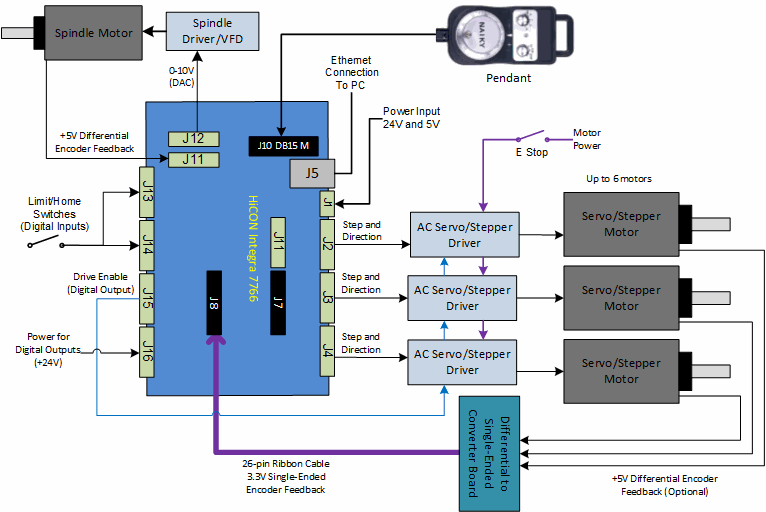 Updating...