»
Featured Products
»
AC/DC Servo Motor
»
ClearPath® - Integrated Servo System (NEMA23 ), 492 oz-in 3/8" Shaft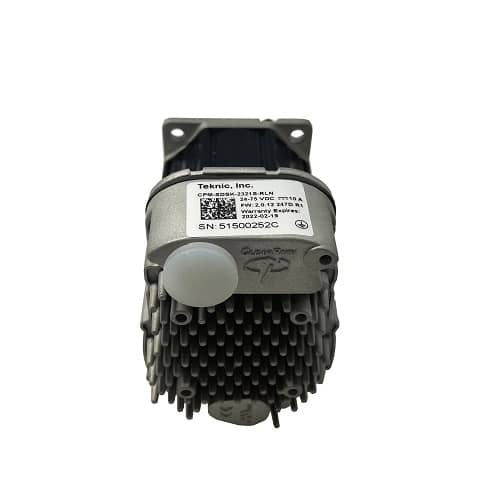 Sale!
ClearPath® – Integrated Servo System (NEMA23 ), 492 oz-in 3/8″ Shaft
Product in stock
Price
from $299.00
from $298.00
You save: $1.00! (0.33%)
ClearPath® – Integrated Servo System (NEMA23 ), 492 oz-in 3/8″ Shaft
Product Description
1: ClearPath® - Integrated Servo System  (NEMA23  492 oz-in)  3/8" Shaft
ClearPath® - Integrated Servo System ( Motor and Driver) CPM-SDSK-2321S-RLN : Can be used for 0704 machine X, Y or BF20L, PM-25MV or other machine
This is a video from Rich Loen
The ClearPath-SDSK model allows you to precisely servo-control position (and velocity) using "step & direction" (or quadrature A/B) command signals.
These digital signals are commonly used to control stepper motors and digital servos, so they are available from a wide variety of products including
PLCs and stand-alone motion control "indexers". Compared to ClearPath-SDHP models, which also use step & direction control signals,
the SDSK models have less peak torque, but are a lower price for any given amount of continuous (RMS) shaft torque and power.
One ClearPath input counts steps from your motion controller, the other input determines if the steps are made in the clockwise or counter-clockwise direction.
Quadrature input allows you to use the output of a quadrature encoder to command position and speed. Or, you can use an indexer
or PLC with quadrature outputs to command at a speed that is 4x the output frequency (because each edge counts as a "step").
Specifications
Motor Frame Size : NEMA 23 - 2.33 in (59.18 mm) sq.
Length: 4.09 in (103.89 mm)
Input (bus) Voltage Range: 24-75 VDC (90 VDC max)
Peak Torque (@75 VDC): 492 oz-in (3.5 N-m)
Cont. (RMS) Torque (@75 VDC): 98 oz-in (0.7 N-m)
Max Speed (@75 VDC): 3170 RPM
Rated Speed (@75 VDC): 2390 RPM
Achievable Resolution: 0.450 degrees (0.057 deg. w/ Enhanced option)
Repeatability: 0.03 degrees
Shaft Diameter: 0.375 in (9.525 mm)
Weight: 2.1 lb (0.9 kg)
Rotor Inertia: 0.9 oz-in² (0.2 kg-cm²)
Logic Input Voltage Range: 4.0 to 28 VDC
Maximum Radial Load: 25 lbf (111.2 N)
Maximum Thrust Load: 5.0 lbf (22.2 N)
Environmental Rating: Dust & water splash resistant
Ambient Temperature: 0-70 deg C (derated >40C)
Ambient Humidity: 0-95%; non-condensing
Regulatory Certifications: UL recognized; CE; RoHS
Country of Origin: USA
Warranty: 3 Years
2:  Cable Kit:
120"  Clearpath PWR and 120" ClearPath I/O Cable Assembly:

Updating...