»
Featured Products
»
Hybrid Stepper Motor Drivers
»
4-Axis DSP Based Digital Stepper Driver Max 60VDC/6.0A, MX4660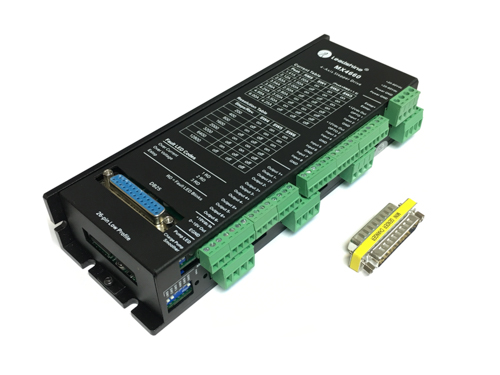 Sale!
4-Axis DSP Based Digital Stepper Driver Max 60VDC/6.0A, MX4660
Product in stock
Price
$399.95
$359.95
You save: $40.00! (10.00%)
4-Axis DSP Based Digital Stepper Driver Max 60VDC/6.0A, MX4660
Product Description
MX4660 -4-Axis DSP Based Digital Stepper Driver Max 60 VDC / 6.0A
Features:
Adopting latest DSP control technology and advanced stepper control algorithm
complete control for 4 axes. Each axis can have its own configurations
Step & direction control
20-60 VDC supply voltage
Output current from 1.45 to 6.0A per axis
8 micro step settings: 1, 1/2, 1/4, 1/8, 1/10, 1/16, 1/32, 1/64
8 output current settings: 1.45, 2.08, 2.72, 3.37, 4.05, 4.72, 5.35, 6.0 A
Built-in breakout board 5 digital inputs, 4 general outputs, & one 0-10 VDC analog output
DIP switches for micro step and output current configurations
Anti resonance for low and middle speed
Excellent high speed performance
Extra low motor heating & noise; smooth movement
Able to drive NEMA 17, 23, 24, and 34 stepper motors
Built-in breakout board with DB25 connector and IO''s for easy setup with many CNC
control systems such as Mach3 and EMC
Easy to install and simple to implement
Automatic idle current reduction to 50%
The MX4660 adopts a more flexible design for its Input1-4 for proximity sensors with
different rated voltages. The power input for the opto-couplers for these four input(input1-
4) is configurable via OPTO1 and OPTO2. Which means you need to connect power supply
to these two pins (OPTO1 and OPTO2) to make these four inputs work normally. By the
way, Input5-8 use the same design as the MX3660 (12VDC sourcing, 10 mA max) because
of the size limitation.
Wiring:
MX4660 Wiring Diagram (146 downloads)
Manual:
4660specification (2549 downloads)
Mach3 Setup for VFD Downloads
MX3660 Spindle Wiring Diagram (116 downloads)
MX4660 Mach3 Setup File:

Updating...