»
Featured Products
»
Motion Controller and Software
»
CS-LAB-CSMIO
»
4-Axis CNC Control System. CSMIO/IP-M Board with simCNC Software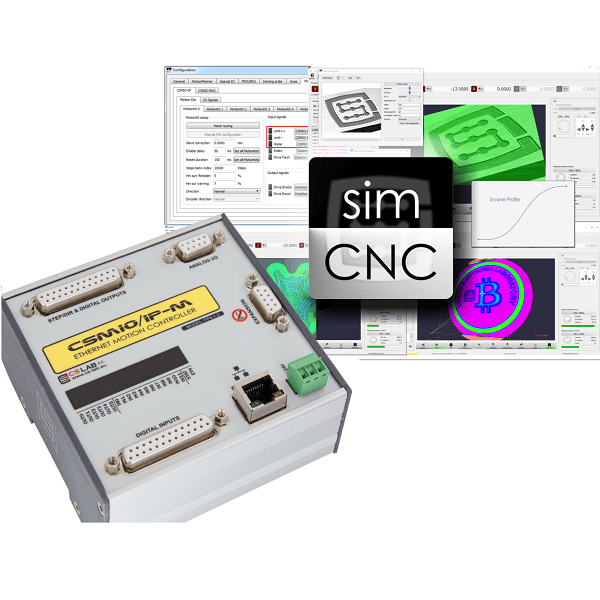 Sale!
4-Axis CNC Control System. CSMIO/IP-M Board with simCNC Software
Product in stock
Price
$512.35
$455.50
You save: $56.85! (11.10%)
4-Axis CNC Control System. CSMIO/IP-M Board with simCNC Software
Product Description
In the CSMIO/IP-M set you will get:
CNC CSMIO/IP-M Controller
simCNC software
Ethernet connection wire
1x 3 pin power plug
1xDB25 -> Terminal Block adapter
1xDB25 + 1xDB9 -> Terminal Block adapter
2xDB25 ribbon wire
1xDB9 ribbon wire
Main & Special Features 
PARAMETER

CSMIO/IP-M

  Number of axes
                          4
  Digital inputs number

12  

  Digital outputs number

4  

  Relay outputs number

2  

  Analog inputs number

2  

  Analog outputs number

2  

  Supply voltage

24VDC +/-10%

  Power consumption

5W

  Maximum voltage on
in/out lines

30VDC

  Maximum load of output line

250mA

  Voltage range of analog inputs

0-10VDC

  Maximum load of analog output

5mA

  Axis drives control type

Step/Direction   (STEP/DIR)  

  Maximum frequency of
STEP signal

125kHz  

  STEP signal duty cycle

50%

  PC connection type

Ethernet 10/100Mb

  Ambient temperature range

0oC to +60oC

  Relative humidity
(without condensation)

10% – 95%

  CSMIO-MPG module support
  CSMIO-IO module support
  CSMIO-ENC module support
  Backlash compensation
  Homing on INDEX
  Slave axes
*basic  (no gantry geometry correction)
  THC analog mode
  Spindle axis
  #G32# threading
  RIGID TAPPING

  Spindle speed readout

  Feedback
Step/dir signal – after the first run of a CNC machine equipped with the CSMIO/IP-M controller you will notice how smooth and precise is the work of your motors. It's thanks to high-quality step/dir signal and data buffer which stores a small part of trajectory sent by control software (simCNC, Mach3, Mach4).
Data buffer – the mentioned trajectory buffer provides uninterrupted operation of a CNC machine, even in case of temporary problems with network connection or software control.
Slave axis support – one slave axis support (without gantry geometry correction).
Safety system – very important advantage of CSMIO/IP-M controller is its own safety system. It constantly watches over the safety of a user and a machine. It consists of many independent algorithms and watchdogs which react very fast in case of forbidden or alarm situations. RESET support for axis drives. Support of FAULT signals from servo drives (immediate stop of a machine in case of any axis accident).
Solid aluminum housing, which dissipates heat and protects electronic circuits very well. Readable led controls on a front panel make it easier to install and simplify diagnostics in case of any problems with switches or another external device that cooperate with CSMIO/IP-M.
Macros – you can control all digital and analog signals using Visual Basic (Mach3), Lua (Mach4), Python (simCNC) macros.
Industry standard – CSMIO/IP-M controller is adapted to worldwide standards applied by servo and stepper drives manufacturers, including:

step/dir outputs supported by differential line transmitters DS26C31 (RS422 standard compliant)
opto-isolated 24VDC digital outputs supported by specialized systems with protection against short-circuit and overload.
opto-isolated 24VDC digital inputs
0-10V analog inputs used to connect potentiometers of spindle rotation speed correction and axis feed rate.
0-10V analog outputs used i.e. for VFD control.
Expansion modules
You can expand CSMIO/IP-M controller features using CSMIO-MPG expansion module for manual axes operation and handwheel encoder. It provides very smooth control of machine motion, automatic switching between speed and position modes.
Attention:
CSMIO-ENC and CSMIO-IO are not supported by CSMIO/IP-M controller.
The housing of the CSMIO/IP-M controller and all the expansion modules is adapted to DIN 35mm rail mounting.

Updating...