»
Featured Products
»
CNC Routers, Milling, Plasma
»
Entry Level Machines
»
CNC Router Engraving Machine Engraver Machine 3040T 4 Axis USB UC100 connection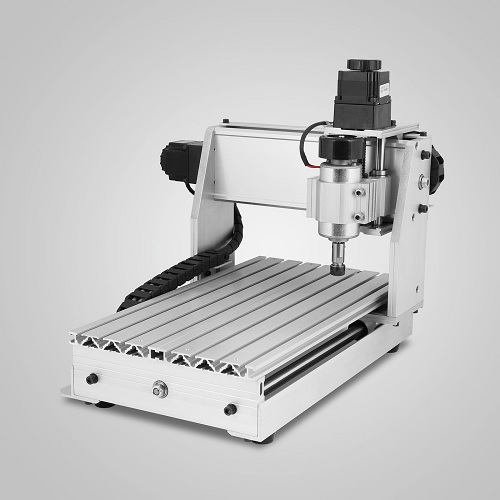 CNC Router Engraving Machine Engraver Machine 3040T 4 Axis USB UC100 connection
Product in stock
CNC Router Engraving Machine Engraver Machine 3040T 4 Axis USB UC100 connection
Product Description
CNC Router Engraving Machine Engraver Machine 3040T 4 Axis Desktop Wood Carving Tools Artwork Milling Woodworking with Rotary Axis (3040T 4 Axis)
CNC3040 is a miniature version of mobile longmen structure of carving machine and suitable for Industry, Technology Research, Advertising Design, Arts Creation, Teaching, Student Project and Hobby Purposes.
1× New CNC 3040T 4 Axis   Engraving machine
1× Control box with USB UC100 Connection,  Window 32 bit or 64 bits
if you need a mach3 software license , pls check here
1× Power cable
1× Tool box and tools
DC Hobby Spindle
Machine Specification;
Max. workpiece dimension:70mm
Work table dimension:320mm*530mm
Driving units X/Y/Z axis:1204 trapezoidal screws
Sliding units X axis:Dia.16 mm chrome plate shafts
Sliding units Yaxis:Dia.16mm chrome plate shafts
Sliding units Z axis:Dia.12mm chrome plate shafts
Frame materials: aluminum alloy 6063 and 6061
Stepping motor type:57 two-phase 1.8A
Spindle speed:500~8000PRM/Min
Principal axis collet:ER11 /3.175 mm
Repeat accuracy:0.05mm
Spindle precision:radial beat acuities 0.03 mm
Control unit: triaxial one-piece drive + ring variable power + PWM speed
Carving Instructions:G-code/.tab /.nc / .ncc/.txt
Communication interface: through parallel connection with computer
Software environment:Windows 2000 / xp, 8, home, 10, 32/64 bit
Maximum speed:0-4000mm/min
Carving speed:300-2500mm/min
Package List:
1× Engraving machine; 1× Control box; 1× Parallel cable; 1× Power cable; 1× Tool box and tools; 3× Axis motors; 1pcs rotary axis and tailstock and UC100 mach3 usb connection

Updating...