»
Featured Products
»
Featured Products
»
3 Axis KL-6090 Desktop CNC Router (24 x 36 inch)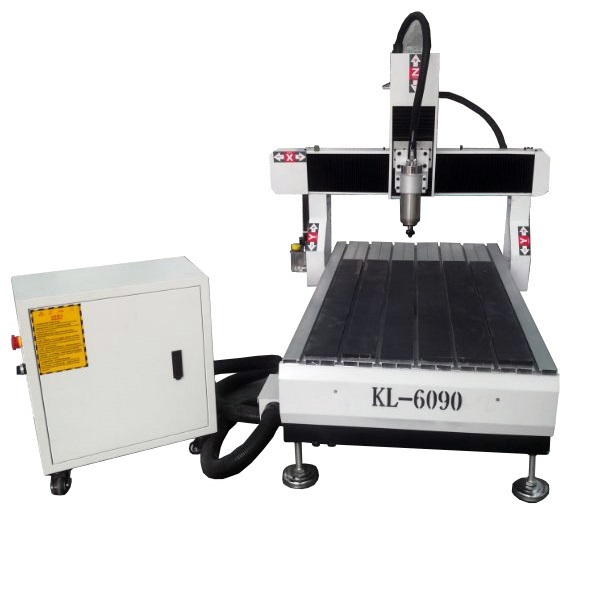 Sale!
3 Axis KL-6090 Desktop CNC Router (24 x 36 inch)
Product in stock
Price
$3,999.00
$3,400.00
You save: $599.00! (14.98%)
3 Axis KL-6090 Desktop CNC Router (24 x 36 inch)
Product Description
3,990.00
3 Axis KL-6090 Desktop CNC Router, (24 x 36 x 8 inch), Stocked in Chicago Warehouse
You can check and pick up or see it before you buy
It has Stepper Motor and Driver, Breakout Board and works with  Mach3 or Mach4, UCCNC
This machine has DB25 connection originally, you can select UC100 for USB Connection, or select ethernet box for Ethernet Connection. You can change to Acorn Board easily
We can add a Rotational 4 axis too
4 Axis with Head stock, Tail Stock, and Integrated Stepper Motor, 100 mm
KL-5056E Digital Stepper Driver-32 bit DSP Based
It has Spindle and Relay Control.
Assembled, Tested, Ready to Run
USA Tech Support: 847-984-0882
1: You can run the router at 110VAc  with a step-up transformer, it is not included
2: Brand New CNC Router Engraving Machine with 2.2KW(3HP) Water Spindle + 2.2KW 400Hz Variable Frequency Drive, 6000-24000 RPM
ER20 Collet Chuck
Working Area (X*Y*Z): 600 X 900 X 200 mm (about 24 x 36 x 8 inch)
Resolution: about 0.05 mm
X, Y, Z Repeatability: 0.02 mm
Spindle rotating speed: 8000-24000 rpm/min
Max Moving Speed: 8000mm/min
Working speed: 0-6000mm/min
Hiwin Linear Block for X, Y, Z axis, High Precision
Max. Power consumption: 3.0KW
NEMA 34  Stepper Motor and Driver, 495 oz-in
Z Height Probe
Certificate: CE
Pack dimensions: 1400mm X 1750mm X 1600mm wooden box (55" x 68" x 63")
Net weight: 230KG
1: if you need us to help you to set up the machine, do Mach3 Training, add the training fee: $200
Start Up Procedure:
KL-Series CNC Manual (4976 downloads)
KL-6090wiring (2191 downloads)
Breakoutboard Wiring and Mach3 Setup (1522 downloads)
You can add mach3, Mach4 or Computer
Fully Licensed Mach3 (Authorized), Email you license file
Fully Licensed versions of Mach4, Email you the license.

Updating...