»
Featured Products
»
Hybrid Stepper Motor Drivers
»
Gecko Drivers
»
Gecko G540 Controller with 48V 12.5A Power Supply, Cooling Fan, USB UC100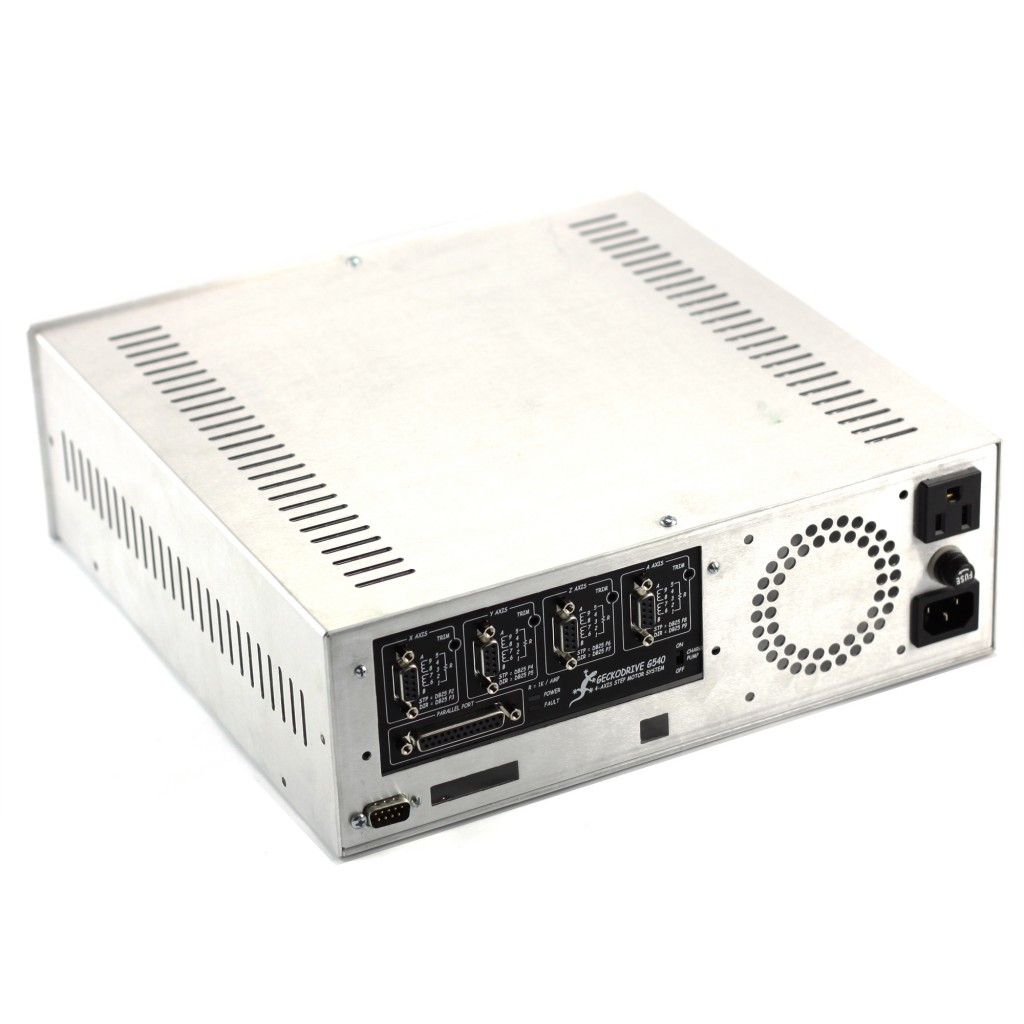 Gecko G540 Controller with 48V 12.5A Power Supply, Cooling Fan, USB UC100
Product in stock
Built around the high quality and popular Gecko G540 4-axis stepper driver module, this ready to go CNC control system includes an aluminum enclosure, a Gecko G540 module, a 48v/12.5a power supply, e-stop, power switch, and power outlet.
Gecko G540 Controller with 48V 12.5A Power Supply, Cooling Fan, USB UC100
Product Description
Gecko G540 Controller with 48V 12.5A Power Supply, Cooling Fan, USB Connection UC100
Ready to plug and use, (115VAC/230VAC)
Brand New 4 Axis Controller for any NEMA23 Stepper motors
Parts are included:
(1) G540 Bipolar Drivers, 50V, 3.5A with 4pcs DB9 connectors
G540 4-Axis Digital Step Drive, Current Version
(1) Power supply 48VDC,12.5A
48VDC/12.5A Switching CNC Power Supply, KL-600-48
(1) One Case with E-Stop, Switch, Power outlet Power cable
6 feet Mach3 Parallel Cable DB25M to DB25M
Aluminum Box for Gecko G540 Driver
(1) 110 VAC Fan
(1) USB Connection UC100  USB
or use ESS connection:
Ethernet SmoothStepper Motion Control Board for Mach3 and Mach4, 6 Axis (with cables $175.99)
Tested with Mach3 Software
Stepper Motors, Computer, Mach3 or Mach4 license file is not included:
Fully Licensed Mach3 (Authorized), Email you license file
Fully Licensed versions of Mach4, Email you the license.
If you need stepper Motor pls click the link:
NEMA23 381OZ/IN 3.5A MOTOR KL23H2100-35-4B with Cable for G540
Wiring Diagram Downloads:
Gecko G540 Wiring Diagram with Spindle Control (357 downloads)

Updating...