»
Featured Products
»
Laser-Engraving
»
Laser Machine Accessories
»
3 Phase 3DM580 8A Step Motor Driver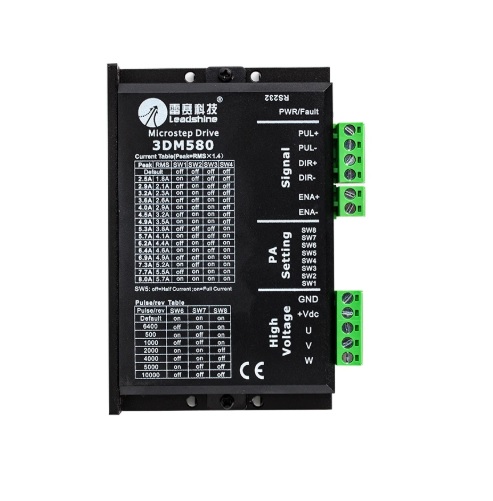 Sale!
3 Phase 3DM580 8A Step Motor Driver
Product in stock
Price
$64.00
$59.95
You save: $4.05! (6.33%)
3 Phase 3DM580 8A Step Motor Driver
Product Description
3 Phase 3DM580 8A Stepping Motor Driver
This is for Laser machine
Product description
Features:
Extra-low motor noise offers excellent quietness
Anti-Resonance, provides optimum torque and nulls mid-range instability
Self-test and Auto-configuration technology, offers optimum responses with different motors
Microstep resolutions programmable, from full-step to 10,000 steps/rev
Operating voltage up to +50 VDC
Output current programmable, from 2.5A to 8A
Pulse input frequency up to 500 KHz
Automatic idle-current reduction
Supports PUL/DIR and CW/CCW modes
Specification:
*Current: Min 2.5A, Max 8A (peak current) - 15 settings
*Voltage: Min 18V Typical: 36V Max: 50V DC
*Logic current: Min 7mA Typical: 10mA Max: 16mA
* Input frequency: 0 to 500KHz
* Size: 118mm x 76mm x 34mm (4.7" x 3" x 1.4")
one year warranty
Stepper Motor for this driver in Laser machine
3 Phase Hybrid Step motor for NEMA23 212 oz-in KL23H378-49-3A
Downloads:
3DM580 User Manual (285 downloads)

Updating...