»
Featured Products
»
Motion-Controller and MPGs
»
PoKeys
»
6 Axis Ethernet SmoothStepper Motion Control Board with Terminals for Mach3, Mach4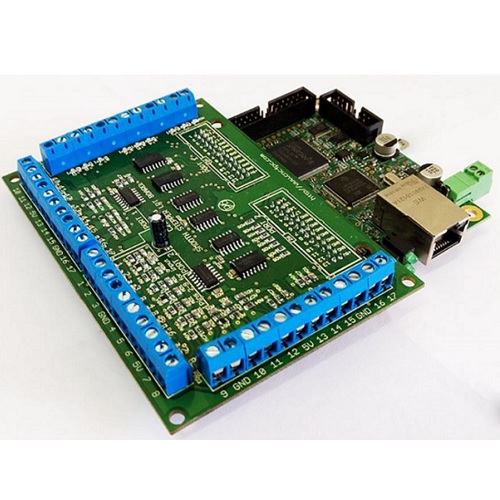 6 Axis Ethernet SmoothStepper Motion Control Board with Terminals for Mach3, Mach4
Product in stock
6 Axis Ethernet SmoothStepper Motion Control Board with Terminals for Mach3, Mach4
Product Description
6 Axis Ethernet SmoothStepper Motion Control Board with Terminals for Mach3, Mach4:
Overview:
The Ethernet SmoothStepper is an external motion control device that connects to the
Ethernet port of a computer. It accepts commands from a software package such as
Mach3, Mach4 and produce very high quality pulse trains that drive step & direction
motors.
Features:
• Works through Ethernet. Connects to the Ethernet ports or LAN router so there is no
need for a PC with parallel ports. It simulates 3 parallel ports.
• Generates pulse rates of up 4 Mhz.
• Works directly with Mach3, Mach4.
• Online Support Forum.
• Has 51 I/Os.
Ethernet Smoothstepper Setup Guide:
Ethernet Smoothstepper Setup Guide (9142 downloads)
If you do not have 5VDC, you need to order this power supply
5V Breakout Board Power Supply
C25 Breakout Board
Click here for VFD and Spindle Setup
ESS Mach4 Plugin & Downloads: click here Mach4 Plugin
ESS Mach3 Plugin & Downloads:  
SCU (System Configuration Utility)
Product Manual& Downloads
ESS Mach4 Plugin & Downloads
These parts are included:
1 Pcs ESS Board
1 Pcs C25 Breakout Board
Additional Details
This driver works on the following operating systems:

Windows Server 2008 R2
Windows 7
Windows 7 x64
Windows Server 2008
Windows Server 2008 x64
Windows Vista
Windows Vista x64
Windows XP
Windows XP x64
Windows 2000
Windows Server 2003
Windows Server 2003 x64

or more

Updating...