»
Featured Products
»
CNC Kits
»
Stepper NEMA34 3 Axis Kits
»
3 Axis Stepper Motor CNC Router / Mill Electronics Kit, Gecko G540 ,48V/12.5A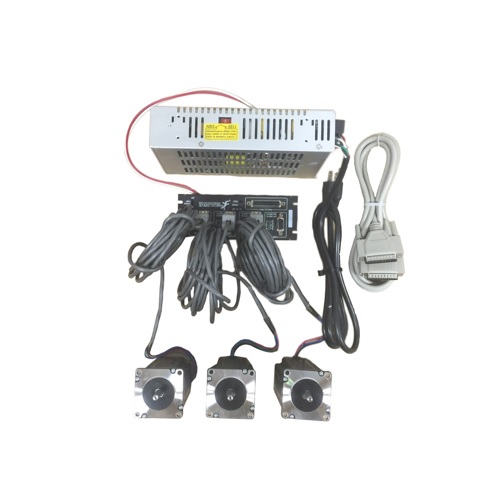 3 Axis Stepper Motor CNC Router / Mill Electronics Kit, Gecko G540 ,48V/12.5A
Product in stock
3 Axis Stepper Motor CNC Router / Mill Electronics Kit, Gecko G540 ,48V/12.5A
Product Description
3 Axis Stepper Motor CNC Router / Mill Electronics Kit, Gecko G540 (110VAC/220VAC)
This picture is showing 4 motors, you only get 3 motors for this kit

This  is nearly plug and play --
1: the only connections required are two wires between the G540 and power supply
2: the AC power cord for the power supply, both of which are provided via convenient screw terminals.
This kit includes:
1: 1 pcs 48V 12.5A switching power supply (110VAC/220VAC)
2: 1 pcs Gecko G540 4 axis stepper motor driver, Current Version
3:  2 pcs High-torque Nema 23 1/4" shaft 381 oz-in stepper motors. These are optimized for the G540  at  3.5A  current , KL23H2100-35-4B
1pcs NEMA34 Stepper Motor – 906 oz/in 6amp Single Shaft (KL34H295-43-8A)
4: 3pcs High-performance flexible, motor cables  12 feet cables.  No soldering
One side wired with BD9 connector, one side wired with motor plug
5: 1 pcs 6 feet Mach3 Parallel Cable DB25M to DB25M
One year warranty
Wiring Diagram  Download:
Gecko G540 Wiring Diagram with Spindle Control (977 downloads)
You can add a UC100 or ESS board

Updating...